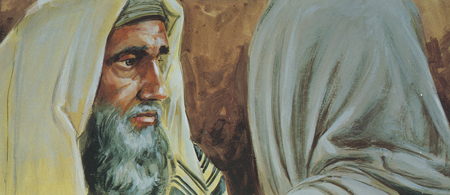 In this chapter Samuel grows up. The most significant aspect of his growing years was his hearing the call and word of Yahweh. The story presents him as just a boy when Yahweh calls him—an encouragement to children and children's ministers! At first Samuel does not recognise Yahweh's voice, mistaking it for Eli. Indeed, like Eli's sons, Samuel "does not know the Lord"—yet (v. 7; cf. 2:12). Eventually Eli discerns the truth and gives the best advice, telling Samuel to respond, "Speak Yahweh: your servant is listening."
But God's speech is a word of judgement against Eli! (cf. Isaiah 6), and so not at all what one wants to hear. Like the prophecy given in the second chapter, the judgement is against Eli and his house, on account of the activities of Eli's sons and his failure to restrain them. While it is possible to reflect on this passage with respect to parenting responsibilities, it is more likely that Eli is presented in terms of his role as high priest responsible for the work and worship of the tabernacle. Many years will pass before these words of prophecy come to pass by which time Samuel is an adult. There will, however, be no forgiveness for Eli, neither by sacrifice nor offering. This is a harsh, or at least a stern, word of unremitting judgement.
I find the portrayal of Eli in these chapters to be somewhat ambiguous. He confronts his sons but does not restrain them, nor remove them from their position. It seems likely that he too was benefiting from their misappropriation. Nevertheless, it seems he does much better with Samuel than he has with his own sons. His blessing of Hannah is twice fruitful, and here, he is alive to the possibility that God may be or is at work. He bows before the word of judgement and acknowledges Yahweh's sovereign right to judge. Yet even this acknowledgement will not save him from this judgement. It seems that his acknowledgement is not equivalent to repentance. "Eli stands as a warning against drifting through life with a well-meaning attitude but without taking up the responsibilities that are really ours" (Evans, 40).
1 Samuel 3:1, 19, 21 
And the word of the Lord was rare in those days; there was no frequent vision. … And Samuel grew, and the Lord was with him and let none of his words fall to the ground. And all Israel from Dan to Beersheba knew that Samuel was established as a prophet of the Lord. And the Lord appeared again at Shiloh, for the Lord revealed himself to Samuel at Shiloh by the word of the Lord.
Under the ministry of Eli and his sons, the word of the Lord has been rare. Whether the spiritual condition of Eli's house and of the people was due to the lack of divine revelation, or whether the lack of divine revelation was due to the failure of the people may be speculated. What is plain in this passage, however, is that the Lord takes the initiative, addressing Samuel by name, calling him in the night, speaking his word and then confirming it publicly, establishing Samuel as the Lord's prophet.
Samuel hears but does not recognise Yahweh's voice: "Now Samuel did not yet know the Lord, and the word of the Lord had not yet been revealed to him" (v.7). Learning to hear and recognise God's voice takes a certain sensitivity, quietness, openness, and readiness. It is unsurprising that Samuel hears in the period before dawn when he and all around him is quiet. It is difficult to hear "the still small voice" in the cacophony of daily busyness. It seems the voice was "audible" for Samuel but was not actually audible, for Eli was not awakened and did not hear. Initially Samuel mistook the divine voice for a natural occurrence, and needed the instruction and encouragement of Eli to recognise the subtlety of Yahweh's speech. With Eli's instruction Samuel returned to his bed and waited, and when addressed, was ready and responded as he had been instructed, "Speak Yahweh: your servant is listening."
The gracious divine initiative here is unmistakable: God comes to Samuel, addressing and calling him. The response of readiness, openness and humility is required if one is to hear the voice of the Lord. The posture is one of a servant, serving the Lord, serving the word. Samuel obeys. Samuel declares what he has heard, though he is afraid to do so. His response is full. He hears, he obeys, he declares. "And the Lord appeared again at Shiloh."
It appears in this context that God's primary way of revelation and communication with his people is via the prophets—despite the word addressed to Joshua after the death of Moses (see Joshua 1).  Later in Israel's history, Amos warns that in a time of judgement God will send a famine upon the land:
Amos 8:11-12
Not a famine of bread, nor a thirst for water, but of hearing the words of the Lord. They shall wander from sea to sea and from north to east; they shall run to and fro to seek the word of the Lord but they shall not find it.
God has raised up a willing, responsive and faithful hearer of the word of God, who also becomes a speaker of the divine word that others might hear with the result that "the Lord appeared again at Shiloh, for the Lord revealed himself to Samuel at Shiloh by the word of the Lord" (v. 21). "Recovery for Israel began with a new hearing and a new speaking out of the word of God" (Evans, 41).