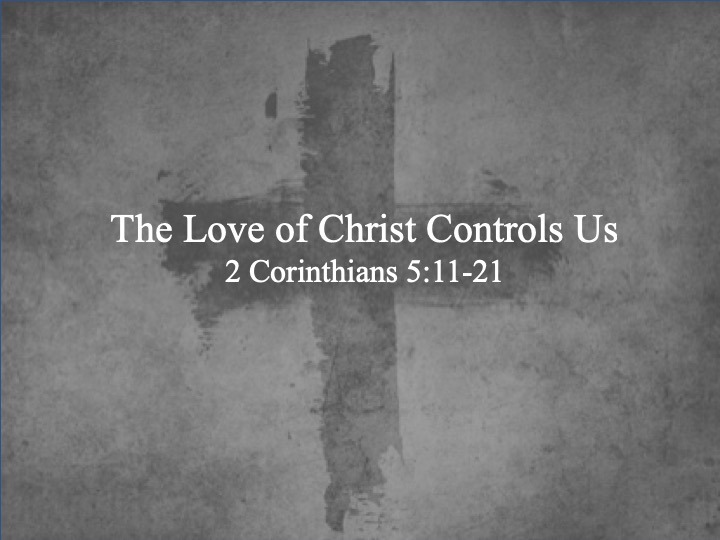 In the opening chapters of 2 Corinthians Paul is defending himself against some at Corinth who are questioning his motives and ministry, and perhaps accusing him to others in the church, evidently seeking to ingratiate themselves to the Corinthians in Paul's place. Paul's previous visit to the Corinthians had been a painful affair, and his last letter to them—almost certainly not 1 Corinthians but another letter (2:3, 9)—had been an endeavour to sort through the difficulties experienced in the visit; it does not appear to have worked.
One issue surfacing several times in these chapters is a concern that Paul is "commending himself" to the Corinthians (see 3:1 – Are we beginning to commend ourselves again?; 5:12 – We are not again commending ourselves to you…; cf. 4:5 – For we do not preach ourselves). Paul insists that he needs no "letters of commendation" for the Corinthians themselves are his "letter of commendation," the work of the Spirit as the fruit of his ministry (3:2-3). Yet Paul does want to commend himself to the Corinthians' consciences (4:2; 5:11). He wants to give the Corinthians an opportunity to be proud of him and his associates, and to have answers that they can give to those who might question them about Paul, or accuse him to them (5:12).
Part of the issue, clear from 1 Corinthians 1-4, is the manner of Paul's ministry in the way of the cross. There is nothing "impressive" about Paul in terms of his personal bearing, rhetorical ability, and so on. He doesn't even have anyone to commend him! His opponents on the other hand, seem to be very impressive in their ministries, to have such commendations, and argue that they are superior to Paul and therefore worthy of the Corinthians' allegiance. Paul, however, suggests that they take "pride in appearance and not in heart" (5:12).
Paul's entire argument in these opening chapters of the letter is a sustained response to these kinds of concerns and accusations. Something particularly notable are the theological underpinnings of his argument. Paul lives and ministers as he does as an application of theological convictions concerning the distinctiveness of the new covenant in Jesus Christ and by the Spirit in contrast to the "ministry of condemnation"—his characterisation of Moses' ministry of the law, and of those in his own day who would seek to follow Moses rather than Christ. The old covenant was a "ministry of death," a "letter that kills," whereas Paul's ministry is a "ministry of righteousness," "of the Spirit" in place of the letter, a ministry of life, liberation, and transformation in Christ and by the Spirit (ch. 3).
Further, his ministry takes place in the way of the cross—a way of ministry conformed to the way of Jesus Christ in the world, a cruciform life in which his "weakness" and suffering, his afflictions and brokenness are the means by which the "light of the knowledge of the glory of God in the face of Jesus Christ" shines in his "earthen vessel." In spite of all these afflictions, however, he is sustained in his ministry so that although the "death of Jesus" is evident in his life, the life of Jesus is manifested in and for the Corinthians (ch. 4).
Paul is sustained in the cruciform life by the eschatological hope with which he is possessed. His sufferings now are "working" an eternal weight of glory for him. He is convinced that just as Jesus was raised from the dead, so believers have awaiting them, a new body in the heavens. Paul is no Platonist; he is not seeking to be "unburdened" of the body (although he does "groan" due to its present affliction), but to be "clothed" anew with the new body of the resurrection. Given this living hope he endures all things for the Corinthians, and for their faith (4:15).
Is Paul mad? If they think so, then he is mad due to his faith in and obedience to God. Is he of "sound mind"? Then the Corinthians should know and recognise that all that he does and suffers is for them (5:13). Note that one can only think of Paul as being of "sound mind" if one accepts the theological presuppositions that he sets forth: the life and death and resurrection of Jesus Christ as the definitive revelation of God by which salvation for all has become a reality.
This is a gospel-shaped vision, a gospel-shaped life, and a gospel-shaped way of ministry.
"For the love of Christ controls us…" Here we hit the bedrock of Paul's ministry ethos, and that which distinguishes him from those that question or accuse him. Ministry, for Paul, is a participation in the suffering and death of Jesus Christ, a cruciform life in his steps, one taken captive by him and following in his train (2:14-18). Just as Jesus Christ gave himself for us and for all, just as Jesus Christ offered himself to God for us and for all, and just as Jesus Christ went to his death so that others might live, so Paul would give himself even unto death so that others might hear and know the message of Christ. His life and ministry would become an echo of the love of the Christ who gave himself for us. Paul would do this—could do this—because of the living hope of the resurrection from the dead. As he shares the sufferings of Christ, so he will share in the glory of his resurrection.
Paul's ministry motive is the love of Christ. Therefore he will not "peddle" the word of God, nor use manipulation or deception, nor harbour hidden agendas or impure motives, nor seek his own advantage, prominence, or fame. He ministers not for his own benefit but for the glory of God and for the sake of those who would hear. He will proclaim Jesus Christ as Lord and himself as their servant. He will aim to make the truth of God plain, and commend himself to their consciences.
Paul's own life has become part of the message: the way of Christ and the love of Christ are embodied in him, visible in him, and so congruent with the message that he proclaims.
"The love of Christ controls us . . . And we have this treasure in earthen vessels so that the surpassing greatness of the power will be of God, and not of ourselves."