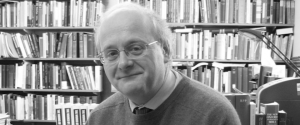 In the abstract to my doctoral dissertation I write, "Following the lead and suggestion of John Webster, the thesis adopts a chronological and exegetical reading of Barth's work…" Then chapter one starts with a long citation from John Webster's Barth's Moral Theology:
Close study of Barth's ethical writings is still in its infancy.…[The] conventional treatment of Barth often revolved around an anxiety that the sheer abundance of Barth's depiction of the saving work of God in Christ tends to identify real action with divine action, and leave little room for lengthy exploration of human moral thought and activity.…A great deal of work remains to be done. What is required more than anything else is detailed study of Barth's writings which, by close reading, tries to display the structure and logic of his concerns without moving prematurely into making judgments or pressing too early the usefulness (or lack of it) of Barth's work for contemporary moral theology.…For Barth, ethical questions are not tacked on to dogmatics as something supplementary, a way of exploring the 'consequences' of doctrinal proposals or demonstrating their 'relevance.' Dogmatics, precisely because its theme is the encounter of God and humanity, is from the beginning moral theology. An inadequate grasp of this point often lies behind much misunderstanding, not only of Barth's ethics but of his dogmatics as a whole (Barth's Moral Theology, 1, 8).
I never knew John Webster, although I did correspond by email with him once or twice, and to my surprise and delight, received answers from him! I knew Webster through his several books, especially those on the theology and ethics of Karl Barth. He was one of the foremost Barth scholars in the world, and we are the poorer for his untimely passing.
Professor Webster died a few weeks ago, aged just sixty years, and Kevin Vanhoozer has written a very appreciative eulogy.
Like Webster, evangelicals need to learn not to be overly concerned about what others will think of them, and to be more concerned with bearing cheerful and true witness to the gospel.
 Another appreciation can be found over at First Things.