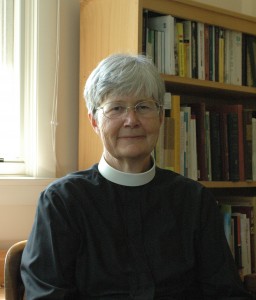 I first came across Kate Sonderegger because she is a Barth scholar. Her early work was on Barth and the Jews, and she has written a number of Barth essays in various volumes. She is another of a growing number of prominent female theologians, one who has just published the first volume of a projected series on systematic theology. Her first volume is on the doctrine of God and here it appears she is establishing her credentials as an independent thinker, certainly breaking with the path blazed by Barth and followed by so many others in the twentieth-century. Sonderegger's Doctrine of God begins not with the trinity but with the one God and then proceeds with a discussion of the classic attributes of this one God: God's omnipresence, omnipotence and omniscience. Michael Allen has conducted an interview with Kate about her new volume on the doctrine of God. (And part 2 of the interview also arrived today…)
I remember as an undergraduate writing an essay on the trinity in Barth and Moltmann, and coming down on the side of Barth who starts with the one God. Moltmann criticised Barth for this, but my impression was that Barth had the better of it. The biblical witness testifies to the unity of God and only then proceeds to discuss his triunity. Moltmann wanted to start with the triunity of God but in my estimation never quite made it back to establishing the divine unity.
The publisher's blurb reads:
The mystery of Almighty God is most properly an explication of the oneness of God, tying the faith of the church to the bedrock of Israel's confession of the LORD of the covenant, the LORD of our Lord Jesus Christ. The doctrine of divine attributes, then, is set out as a reflection on Holy Scripture: the One God as omnipresent, omnipotent, and omniscient, and all these as expressions of the Love who is God. Systematic theology must make bold claims about its knowledge and service of this One LORD: the Invisible God must be seen and known in the visible. In this way, God and God's relation to creation are distinguished—but not separated—from Christology, the doctrine of perfections from redemption. The LORD God will be seen as compatible with creatures, and the divine perfections express formally distinct and unique relations to the world.
This systematic theology, then, begins from the treatise De Deo Uno and develops the dogma of the Trinity as an expression of divine unicity, on which will depend creation, Christology, and ecclesiology. In the end, the transcendent beauty who is God can be known only in worship and praise.