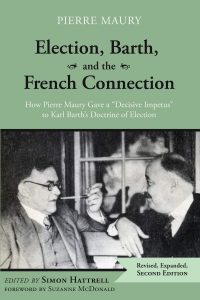 Simon Hattrell's recent book Election, Barth, and the French Connection (Second edition) contains two lectures and a sermon from Pierre Maury, the French Reformed pastor-theologian whose 1936 lecture in Geneva so influenced Karl Barth's reconstruction of the doctrine of election. This sermon was preached in Lent 1937, in the Reformed Church of Passy, Paris. Maury gave a series of six talks of which this was one.
Maury begins with John 14:6 and asserts that Jesus is the (only) way, and as such, the only revelation of God. This is something requiring one's commitment, something people often struggle to give for they continually seek to establish their own way. This they—we!—must cease to do, abandoning our efforts and accepting Jesus Christ himself as our (only) way.
The Christian life, from its beginning to its end, is decision, that is to say, unreserved commitment. . . . For, Jesus Christ wants to be objective in the sense that He claims to be an unreserved commitment of God on our behalf, and on the other hand He demands that we become unreservedly committed to Him. It is this double aspect of His existence that we are now going to examine (53).
To 'choose' or to commit to Christ is not analogous to other human choices between a range of options, or the self-commitment of one to an imagined absolute or cause. Jesus Christ himself is the Absolute who demands our unconditional submission in the obedience of faith; that is, a free submission. This commitment, suggests Maury, comes not by means of rational argument concerning the legitimacy of Christian claims. Rather, one is engaged in relational encounter with Jesus the Word, engaged in dialogue, hearing and speaking. One is to 'hear' Jesus Christ—his whole life and eternal existence is a 'word' addressed to us. Maury recalls an experience related by Pascal in Les Pensées to make his point:
As soon as faith is fixed on this person of past history, it is quite naturally brought to discover in him a personal intention—an interaction has begun. . . . Just as long as, like all the heroes of history, He remains for us an object of reflection, of admiration or curiosity, we do not know Him; He is not Him; he is only that which He wants to be (54).
When God speaks to us in Christ it is not in order to display a truth, but to reveal to us our situation before Him, and the attitude that He adopts before us (55).
As such, Jesus Christ is decisive. He is decisive in the sense that in him all are included and contained. Our existence is, eternally and in eternity, contained, enfolded, enclosed and included in his existence. It seems that for Maury, this is the content of proclamation: a divine decision has been made; humanity is the object of divine love—all of us, and each of us.
Jesus Christ is a decision of God, therefore without any recourse, as far as we are concerned, a decision of someone other than ourselves and of which we are the object; and that is to say, in the second place, that Jesus Christ calls for a decision on our part, a final (permanent) decision. . . . It is from all eternity, in eternity, that between Jesus Christ and us a relationship is established (56).
Again:
Marvelous revelation of an unfathomable mystery! When this child is born in a manger, when this man dies on the cross and rises again the third day, the eve of the Sabbath, it is our whole life that is swept up in this commitment, it is for our whole life that something happens. He is the one by whom—for whom also—we have been created, who is there. He is there, simple and immense, simple as the simplest of the sons of men, immense because the dimensions of His existence contain us all; He is the beginning and the end of our life. In Him everything is enclosed, kept, protected. When He cries out, 'Come to me, you who are weary and heavy laden' (Matthew 11:28), it is all our destinies that He is calling, because they belong to Him. When He stretches out His arms upon the cross, He says that it is 'to draw all to Himself' (John 12:32) because no one has existed without Him and outside of Him. When He rises and is exalted to the right hand of God, it is in order to present to God—eternally, and in eternity—those who—from all eternity, in eternity—have always been, are and will always be His. I have said, I have repeated: all (57).
Jesus Christ is thus decisive in the decision that has been taken by God concerning us, our entire existence. He is decisive, too, because in his incarnation and life we are encountered by the coming and work of God.
The real mystery of the action of Jesus Christ is that 'he does nothing by himself' (John 5:19). That which He does for us, and that which He does in coming to us, in giving Himself to us, in choosing us, is what no person can do: it is an act of God! . . . Such is the true relationship that Jesus Christ has with those who believe in Him: a relationship where God Himself legally binds Himself to us (60, 61).
This activity, the activity of his love—his coming to us, giving himself to and for us, and in so doing, choosing us—is election, and it must be understood as the testimony of his love in its most positive sense, and not at all negatively, as a sign of partiality (60).
Not only is Jesus Christ decisive, he is also ultimate. The divine decision concerning us is ultimate, not merely as divine but because it concerns the last—the ultimate—judgement. Yet the Judge is Jesus Christ—he who has come, given himself, and chosen us! In view of all this, Jesus Christ is ultimate also for he demands our decision, an ultimate decision in which we give ourselves wholly and without reserve to him. He comes to us indeed, though in his coming he is always Lord and Master.
We need to insist on the uncompromising nature of the essence of Christian decision. … If we choose Him, it's because He has chosen us first; if we take Him up, it is because He has seized us. Such is the seriousness of His coming into our life that it dispossesses us completely. He only comes as Master. He is the Lord Jesus. . . . The intolerable, demanding nature of faith is the mark of grace which is ours in faith (64).
Although he does not use the language of 'irresistible grace' it is clear that Maury holds such a concept. Jesus Christ seeks us out, confronts us, and in so doing reaches our 'true centre' where our destiny is at stake, laying hold of our lives 'where all possibilities of escape are closed except this one, this obligation to say yes or no, and never 'perhaps' . . . 'If we do not give our consent, it's because we haven't been found' (64).
The decision required of us is the response of faith, rather than correct knowledge or full understanding. The real question confronting us is not intellectual but existential. 'We have to come to Him with our life, because it is with His life that He has come to us' (66). To respond to Jesus Christ in faith is to give ourselves to him as he did to us—in complete simplicity, immediately, and without reservation (65).
Maury concludes his sermon by directing his listeners to the only place where they might look for and find Jesus Christ as their ultimate decision: to the Bible. 'It is through the Bible alone that Jesus Christ is made our contemporary. If Scripture is holy, it is because it offers us the possibility of knowing the ultimate decision of our life with no looking back' (67).
But one can also, from the beginning to the end of the Bible, hear the living Word of God, hear God speaking of Jesus Christ, and in Jesus Christ, and, having heard Him, one can—no, one must—decide for or against Him. . . . Whoever looks in these pages for Jesus Christ as their Lord, sooner or later, slowly or all of a sudden, will find what they are looking for (67).
That this happens is, in the final analysis, the work of the Holy Spirit, for in every case the human decision is grounded in and enabled by the grace of the divine decision made concerning us.
*****
The sermon is prefaced, in the book, with a record of a brief correspondence between Barth and Maury, and a longer note from Charlotte von Kirschbaum who translated the Frenchman's sermon in German, translating it three times before she was (somewhat!) happy with it. Hattrell has given us the first translation of the sermon into English. My citations and pagination here are based on the first edition of the volume.