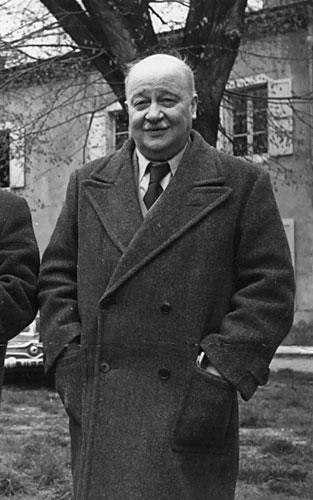 In 1936 at the International Congress of Calvinist Theology conducted in Geneva to celebrate the 400-year anniversary of the first edition of Calvin's Institutes, French preacher-theologian Pierre Maury presented a paper entitled 'Election et Foi.' Karl Barth would later recall that the address had made a profound impression on him, providing the decisive contribution to his own thought on the doctrine of predestination.
Maury's lecture has been recently translated and published in English thanks to the work of Simon Hattrell, in his edited volume Election, Barth, and the French Connection: How Pierre Maury Gave a 'Decisive Impetus' to Karl Barth's Doctrine of Election. The volume includes testimony from those who knew Maury, including Barth, as well as three lectures by Maury that provide a good insight into his thought concerning election, and a number of additional contemporary essays discussing the doctrine in Barth and Maury's theology.
Over the next few weeks I will provide a summary of Maury's lectures in order to make more generally available what he said that so impressed Barth. Of course, better yet would be to buy the book!
The 1936 lecture itself, is quite short. Maury begins by indicating the approach he will take to the doctrine, which initially sounds characteristically Reformed:
We did not give ourselves life nor will we be able to avoid death. We have not chosen to live; we cannot choose to not die. It is therefore not a question here of our choice, the one that we make, but the choice of which we are the object, that which is made (or not made) of us. These are those insurmountable limits, which are imposed on us, which election calls to mind (42).
Since the doctrine of election trumps all our categories of reason and wisdom, we cannot approach it philosophically but only in accordance with faith, led and guided by the Scriptures. Hence the title, 'Election and Faith.' Scripture will be the guide of faith and not a teacher of philosophy. "It will lead us in some points to not follow what Calvin heard in it. But that will not be being unfaithful to him; on the contrary, that will be truly Calvinist" (43).
When we begin with Scripture, however, we find that election is christologically ordered. For Maury, the eternal and the incarnate Christ is the origin, ground, and goal of God's election. This election is entirely free, wholly God's initiative, and yet at the cross it is shown to have cost God everything.
We will take our stand, therefore, in speaking of predestination, on this solid ground, where the hidden mystery of God becomes the revealed grace which is offered to us. We can truly say that outside of Christ, there is neither election, nor knowledge of election . . . Outside of Christ, we know neither who the God who elects is, nor those He elects, nor how He elects them (43).
Jesus Christ is not merely the point of the knowledge of divine election, but is in himself the election:
So the election is nothing else than the eternal and temporal existence of Jesus Christ, our mediator. For it is in Him, in Him crucified, in Him alone, that God has met us. Because it is in Christ, we know that election is not some unfathomable eternal caprice or whim, a game played out in the infinitely distant idleness of eternity but a concrete reality, our reality. It bears the marks of the historical and real life of Jesus Christ, living, dying, rising for us (46).
Election is, negatively, God taking all our sin and alienation on the cross. This is grace. Here, here alone, but here truly, we see that God is love. Election, therefore, consists in the rejection of Jesus Christ.
Before the cross, too, we understand this paradox: the price of free election. For election does not cost us anything, but God it cost His Son. For God to extend grace, to forgive, is to give everything, to give everything for us who cannot give Him anything. . . . This is the night of the ninth hour. What does this darkness mean? Revelation says: punishment. And the Son believes it: punishment, God's wrath. The only one who will understand grace in election is the same one who understands that it is fulfilled in Christ dying, smitten by God, deserted by men. The only one who will understand how election is sheer pardon is the one who, before the cross, does not come with arguments or with good works, with religious emotion or objections, but who stands there speechless because they have nothing to say, nothing to do, nothing to put forward (47-48).
The human response to this election is to choose, decisively, for or against. At the cross we see ourselves—and so judgement, rejection, and condemnation; and at the cross we see God—and so grace, acceptance, and justification. This is double-predestination, though in Maury's hands it refers not to two separate classes of people (salvation for some, damnation for the rest), but is applied to each person. The church may and must speak of double-predestination but only in this way. That is, it may preach 'the word of the cross.' Indeed apart from the cross, double-predestination is solely an eschatological concept: we cannot sort anyone into these categories.
The elect, in their election, accept everything from the cross: condemnation and grace, judgement and forgiveness, demand and promise, renouncement and life. They accept, that is to say, they no longer have anything, they allow everything to be given to them . . . Predestination is therefore very much double (51, 52).
When asked, upon whom does salvation depend? Maury responds as expected: upon God, of course! Though this answer is known only in faith. Faith is a decisive human act with no opt-out clause. Faith is to risk everything in our reply to this judgement and grace addressed to us. "To accept Jesus Christ, to be chosen by God, means to choose to turn away from ourselves forever. That means to have from now on an absolute Lord . . . " (50).
To look to the cross is to respond in kind. In choosing Christ we no longer choose ourselves but embrace a vocation to be conformed to Christ. There is a life that is appropriate to the elect: a life of continuing faith lest the believer transform God's election into their own possession; a life of prayer since all depends on God—and the truest prayer is that which asks for the Holy Spirit; and finally, a life of obedience to the God who has and continues, to call them.
Pierre Maury, "Election et Foi (Election and Faith)" in Election, Barth, and the French Connection: How Pierre Maury Gave a 'Decisive Impetus' to Karl Barth's Doctrine of Election." Edited by Simon Hattrell, 41-59. Second edition; Eugene: Pickwick, 2019.