Hugh Mackay, Infidelity: A Novel 
(Sydney: Pan MacMillan Australia, 2013) 
ISBN: 978-1-74261-248-5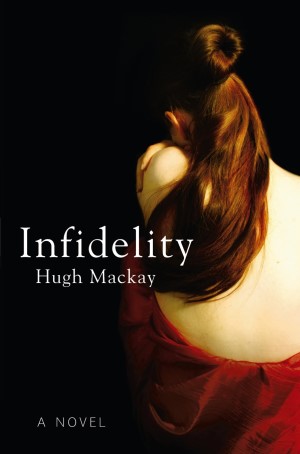 Hugh Mackay is a well-known Australian social commentator and author of both non-fiction and fiction works. Several of Mackay's non-fiction works—Right and Wrong and The Good Life—demonstrate his interest in moral questions, an interest also finding expression in his opinion pieces in Australian newspapers. His most recent novel Infidelity develops this interest. A brief statement at the close of the book says,
I first encountered the central moral dilemma faced by Sarah and Tom in an article published in The Psychologist, the monthly magazine of The British Psychological Society. It was presented as part of a series of complex moral questions that might be raised by clients receiving psychotherapy. When I read it, I could imagine how that dilemma, somewhat nuanced, could form the 'hinge' of a plot for a novel.
The story is told from Tom's perspective. Tom is a forty-three Australian psychologist 'exiled' temporarily in London who falls deeply in love with Sarah. The attachment very quickly turns into an affair and before long he has moved in. But things are complicated: Sarah is still married to someone else in what is portrayed as a loveless but nevertheless mutually convenient relationship.
As the book unfolds and the affair deepens, various kinds and levels of infidelity are noticed as Mackay weaves a range of moral questions, scenarios and dilemmas into the narrative. These are such a subtle  part of the story that it is only upon subsequent reflection that I became conscious of the extent of everyday moral issues that Mackay has canvassed. The core matter though concerns what the object of fidelity truly is. Early on Sarah, a popular university lecturer, notes that "once you've stopped being true to yourself, other infidelities come more easily" (44). Later, in a reflection on his own loss of religious faith, Tom ponders:
Unfaithfulness. Was that, I wondered, one of the infidelities that could lead on to others? Was that what Sarah had meant when she said being corrupted by Perry's wealth made other infidelities easier? Was one kind of faithfulness a bastion against other lapses?
Sitting in that magnificent setting, surrounded by all the panoply of religious practice, I wasn't sure. Not sure at all. I could be true to myself, I thought, and faithful to a partner, without needing religious faith to shore me up. Yet I saw how the reverse process might work: one kind of infidelity could make others easier. If a man betrayed his wife, or his friends, or his colleagues – or even his country – perhaps that would lower the moral barrier to other betrayals. But I couldn't see why steadfast religious belief should be the core fidelity. Wasn't the core fidelity being true to yourself, to your own scruples? And wouldn't other fidelities be more likely to flow from that one than from any others? That was an idea that had been with us for thousands of years. Shakespeare, as usual, put it best: this above all – to thine own self be true, and it must follow, as the night the day, thou canst not then be false to any man. (178-179, original emphasis)
Although Mackay portrays religious faith in quite positive terms, this is as close as he comes to preaching. In an interview/review in the Sydney Morning Herald, he described himself as a Christian agnostic, by which he means to convey the idea that he is broadly in sympathy with the Christian position on many issues, having been steeped in Christian culture and tradition. "But I am not currently the kind of believer I once was," he says. "More pilgrim than committed. Neither atheist nor theist. Full of doubt, as I suspect many Christian believers also are. Very wary of the fundamentalist, having been one in my youth."
In his interview Mackay indicates that he is arguing with Shakespeare that "fidelity is about being true to yourself and your own convictions." Certainly Sarah's initial observation, together with Tom's reflection, suggests that the primary fidelity involves being true to oneself.
Yet does the story subvert this observation and undermine Shakespeare's wisdom? Perhaps Sarah's initial compromise with respect to her husband was an initial infidelity. Arguably, however, the infidelities of her life are the symptoms of a deeper fidelity to self-above-all. Sarah's infidelities arise precisely because she is so committed to herself and what she perceives to be in her own best interests. If the theological dictum homo incurvatus in se has credence, this (inherent) self-fidelity will be overcome only by a more fundamental fidelity to that which is not our self, to that which is external to ourselves in such a way that the self becomes decentred—though not lost. That there are secular ways of framing this external reality is undoubted; nonetheless, the very act of establishing such an external reference is inherently religious, whether that external reference is God or an abstract value such as justice, or dare I say it, the "golden rule." Thus, the question persists, perhaps even in spite of Mackay's intent. Might religious faith be that core of fidelity which supports and enables other kinds of fidelity?
Mackay is doing here in fiction what he does more straight-forwardly in The Good Life. That is, he argues that true satisfaction is found not in serving one's own (selfish) interests, but in our capacity for selflessness, for relationship, for hospitality toward others. He has written a credible and thoughtful story in a very readable form. I recommend it.