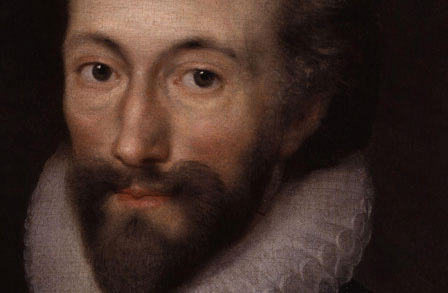 Wilt thou love God, as he thee? then digest,
My Soul, this wholesome meditation.
How God the Spirit, by Angels waited on
In heaven, doth make his Temple in thy breast.
the Father having begot a Son most blest,
And still begetting, (for he ne'r begonne)
Hath deign'd to choose thee by adoption,
Coheir to his glory, and Sabbath's endless rest;
And, as a robbed man, which by search doth find
His stolen stuff sold, must lose or buy it again:
the Son of glory came down, and was slain,
Us whom he had made, and Satan stole, to unbind.
'Twas much, that man was made like God before,
But, that God should be made like man, much more.
In last week's class we were discussing theories of atonement and finished by looking at this classic sonnet (taken from McGrath's The Christian Theology Reader 3rd edition, 368). After an extended discussion around patristic and medieval approaches, this was refreshing. Colin Gunton complains that Gregory of Nyssa moved from metaphor to mythology by treating the biblical idea of ransom in terms of speculation, God deceiving the devil, capturing him on the hook of Christ's divinity hidden beneath his humanity (The Actuality of Atonement, 63).
Anselm's satisfaction theory may well have been a very relevant explanation of the atonement in a feudal context, but it still loses something essential in terms of the gospel. Anselm's feudal god is too aloof, too touchy, too offended, too demanding. It is true we have profaned God's honour, but the gospel shows God taking that shame upon himself in order to restore fellowship with his people.
Many expositions of the atonement fixate on mechanics, trying to identify precisely how the atonement works, failing to recognise that the plurality of metaphors in the New Testament serve to illuminate the atonement precisely as they protect its mystery. It is here that Donne's poem was refreshing. Donne celebrates the mystery and wonder of the atonement, situates it within the overarching story of the love of God, appeals to biblical metaphors, especially the idea of redemption, but steers clear of treating atonement in terms of mechanics. Thus some sense of transaction remains, but Donne does not allow detailed explanation and speculation to overshadow the wonder of divine grace.
This is a good model, I think, for preaching the atonement.