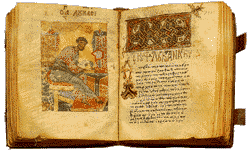 The ancient church historian and contemporary of Nestorius, Socrates of Constantinople, evidently did not think much of Nestorius, despite his defence of Nestorius's orthodoxy.
What sort of a disposition he was of in other respects, those who possessed any discernment were able to perceive from his first sermon. … [those] did not fail to detect his levity of mind, and violent and vainglorious temperament, inasmuch as he had burst forth into such vehemence without being able to contain himself for even the shortest space of time; and to use the proverbial phrase, "before he had tasted the water of the city," showed himself a furious persecutor.[1]
Nestorius had been appointed as bishop of Constantinople by the Emperor in 428AD, chosen for his "excellent voice and fluency of speech." Nevertheless it seems controversy dogged his episcopate from the start, and he eventually was condemned for his christological views at the Council of Ephesus in 431. It seems Socrates believes this was an unfair judgement:
Having myself perused the writings of Nestorius, I have found him an unlearned man and shall candidly express the conviction of my own mind concerning him; … I cannot then concede that he was either a follower of [known heretics] Paul of Samosata or of Photinus, or that he denied the divinity of Christ … He does not assert Christ to be a mere man, as Photinus did or Paul of Samosata, his own published homilies fully demonstrate. In these discourses he nowhere destroys the proper personality (hypostasis) of the Word of God; but on the contrary invariably maintains that he has an essential and distinct personality and existence. Nor does he ever deny his subsistence… Such in fact I find Nestorius, both from having myself read his own works, and from the assurances of his admirers. But this idle contention of his has produced no slight ferment in the religious world (171).
How was it, then, that this gifted and charismatic speaker occupying one of the most prestigious pulpits in the empire caused such an uproar? Socrates is blunt:
He seemed scared of the term Theotocos [sic; i.e. "God-bearer," or "mother of God"], as though it were some terrible phantom. The fact is, the causeless alarm he manifested on this subject just exposed his extreme ignorance: for being a man of natural fluency as a speaker, he was considered well educated, but in reality he was disgracefully illiterate. In fact he contemned the drudgery of an accurate examination of the ancient expositors; and, puffed up with his readiness of expression, he did not give his attention to the ancients, but thought himself the greatest of all (171).
Alister McGrath translates that last sentence: "In fact he had no time for the hard work which an accurate examination of the ancient expositors would have involved…"[2]
Theological work can be hard. Yet this observation from the early fifth century is just as relevant today. Some pastors, leaders, teachers and others rely on their excellent gifts, charisma and charm to carry their ministry, dismissing the work of those who have gone before as though it were of no value or benefit. In their pride they may become arrogant, and may even, as Nestorius did, cause great dissention in the body of Christ. The work may be difficult, may even be "drudgery," but it is necessary work, especially for those charged with the responsibility of shepherding the people of God.
*****
[1] Scholasticus, Socrates, "The Ecclesiastical History of Socrates Scholasticus," in Nicene and Post-Nicene Fathers (Second Series) Volume 2: Socrates, Sozomenos: Church Histories ed. Schaff, Philip & Henry Wace, (Peabody, Mass.: Hendrickson, 1890; reprint, 1995), 169.
[2] McGrath, Alister E., ed. The Christian Theology Reader, Third ed. (Oxford: Blackwell, 2007), 273, emphasis added.