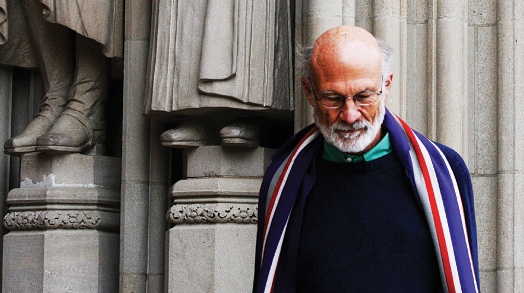 Advent is a time of preparation, a time for returning again and again, year after year, to the first things. We who think we know the story probably do not know as we ought to know it. I, for one, do not live into it as it calls to be lived into. This year I hope to return again to the first things with the help of Stanley Hauerwas, and specifically, the first two chapters of his commentary on Matthew (Hauerwas, Brazos Theological Commentary on the Bible, Matthew (2006)).
"The book of the genesis of Jesus Christ" is not a modest beginning. Matthew starts by suggesting that … to rightly understand the story of this man Jesus, we must begin with God because this is God's Messiah (23). …
Eschatology is the word that Christians use to describe this understanding of the ways things are. Eschatology indicates that the world is storied. The gospels and especially Matthew assume there is no more determinative way to understand existence than through the story found in scripture. Creation is the first movement in the story that, as we shall see spelled out in Matthew, involves the election of Israel, kingship, sin, exile, and redemption. For Matthew, indeed for all the gospels, Jesus is the "summing up" of the history of Israel so that Jew and Gentile alike can now live as God's people. … Matthew believes that the story of Jesus is the story of a new creation (23-24).
For Matthew, Jesus has changed the world, requiring that our lives be changed if we are to live as people of the new creation. Accordingly, the gospel is not information that invites us to decide what we will take or leave. Our task is not to understand the story that Matthew tells in light of our understanding of the world. Rather, Matthew would have our understanding of the world fully transformed as the result of our reading of his gospel. Matthew writes so that we might become followers, be disciples, of Jesus. To be a Christian does not mean that we are to change the world, but rather that we must live as witnesses to the world that God has changed. We should not be surprised, therefore, if the way we live makes the change visible (25).
  An Advent Prayer
Advent God,
we journey with you,
to Bethlehem's stable and a new-born King,
ears attuned to the song of angels,
eyes alert for Bethlehem's star.
Forgive us, if on our journey
we are distracted by the tempting offers of this world.
Keep our hearts aflame
with the hope of Christmas,
and the promise of a Saviour.
Amen.
Read more at: http://www.faithandworship.com/prayers_Advent.htm#ixzz4RkyHGwPD
Under Creative Commons License: Attribution