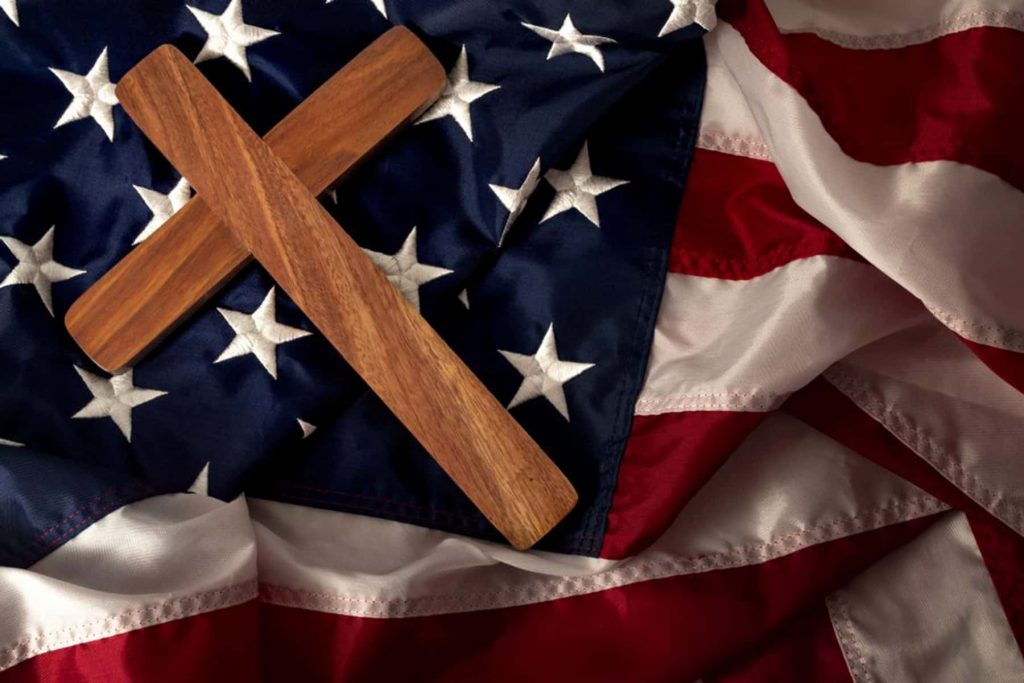 Much has been written about Evangelical support for Donald Trump over the last few years. Was this support an aberration? How could so-called Bible-believing Christians have supported so unlikely a candidate? Why did they resonate with his rhetoric and policy positions? In a recent interview on Politico Elizabeth Neumann, herself an Evangelical and so a sympathetic observer, identified several reasons why some American evangelicals fell for this temptation.
Religious nationalism is nothing new, of course, and nor is it restricted to North American Evangelicals or Christians generally. Many Christian groups over the centuries have fallen in line with the nationalist aspirations of their political masters. Where the head of the church or religion is also the head of state, the problem is compounded. But the head of state need not be the head of the church for religious nationalism to take hold of a population or certain segments of it. When a nation views itself and its destiny in terms of empire, and where a cultural synthesis occurs between church and state so that the aims of the church become aligned with those of the state, the conditions are ripe for the emergence of religious nationalism.
Part of the problem here, as Neumann contends, concerns the authoritarian streak that runs through some streams of Evangelicalism. But part of it might also be traced to a theological malaise in which the Christian imagination has been subverted and co-opted to the vision of the secular order. In a brief discussion of the rise of Nazism in Weimar Germany James Hawes argues:
It is worth hammering this point home: if you're trying to forecast whether a random German voter from 1928 will switch to Hitler, asking whether they are rich or poor, town or country, educated or not, man or woman and so on will scarcely help at all. The only question really worth asking is whether they are Catholic or Protestant (The Shortest History of Germany, 164).
He cites Jurgen W. Falter: "Hitler's strongholds were clearly in the Lutheran countryside." Further, only 17% of Nazi voters came from the predominantly Catholic regions (Der Spiegel, 29 January, 2008, in Hawes, 164).
Why and how did this religious support for Hitler surge between 1928 and 1933. No doubt part of the answer to the story is the ongoing suffering and shame of the German people which Hitler manipulated to his own purposes. But the Protestants were vulnerable to this manipulation also for theological reasons. Over the preceding centuries, and arguably back to Luther's appeal to the German princes to support the Reformation, German Protestantism had actively looked to political authorities for support and in return also supported the political authorities.
Karl Barth also recognised the theological roots of Protestant support for Hitler's regime in the preface to the first part-volume of his Church Dogmatics, published in 1932, the year before Hitler came to power in Germany.
Or shall I rather bemoan the constantly increasing confusion, tedium and irrelevance of modern Protestantism, which, probably along with the Trinity and the Virgin Birth, has lost an entire third dimension—the dimension of what for once, though not confusing it with religious and moral earnestness, we may describe as mystery—with the result that it has been punished with all kinds of worthless substitutes, that it has fallen the more readily victim to such uneasy cliques and sects as High Church, German Church, Christian Community and religious Socialism, and that many of its preachers and adherents have finally learned to discover deep religious significance in the intoxication of Nordic blood and their political Führer? (CD I/1: xiv).
I believe that I understand the present-day authorities of the Church better than they understand themselves when I ignore their well-known resentment against what should have been their most important task, appealing from authorities badly informed to authorities which are better informed. I am firmly convinced that, especially in the broad field of politics, we cannot reach the clarifications which are necessary today, and on which theology might have a word to say, as indeed it ought to have, without first reaching the comprehensive clarifications in and about theology which are our present concern (CD I/1: xvi).
A great danger for the church is that it loses its theological moorings and so substitutes other commitments and convictions in place of Jesus Christ—'the one Word of God which we have to hear and which we have to trust and obey in life and in death' (Barmen Declaration, Thesis 1, 1934). Barth, too, understood 'there is within the Church an Evangelical theology which is to be affirmed and a heretical non-theology which is to be resolutely denied' (CD I/1: xv). It is evident that the non-theology to be denied was the theological assimilation to National Socialism that occurred in the so-called German Christians.
Some—certainly not all—North American evangelicals fell into the same danger in their naïve support for the Trump agenda. This is not to say, of course, that everything Trump did was evil. But by accepting the Trump package, these evangelicals lost their ability 'to discern what is excellent' (Philippians 1:10) and in the end accepted and even celebrated a leader who exemplified a form of life alien to that of Jesus and his kingdom.