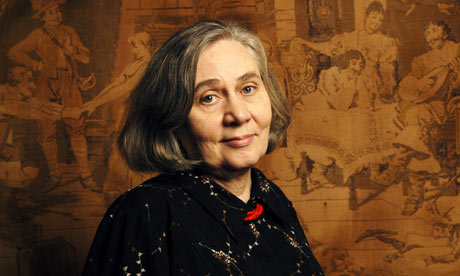 I have read Gilead and Home twice now, and I have just finished reading Lila for the first time. I have also listened to the audio versions of Gilead and Home. These are beautifully written novels, gentle, slow, and humane. Robinson's gift is bringing her characters to life in an easy and unforced manner, letting them grow in depth, colour and texture as the novels proceed. The novels are set in the 1950s, although they recall earlier periods of American history as the stories of the characters' lives unfold.
Each of the novels centre around the Iowa town of Gilead where Rev. John Ames is pastor of a small Christian congregation. Late in life—and to his utter surprise—Ames marries and fathers a child. Gilead tells something of his story, of Lila, and of Robert, their son. It also introduces the Boughtons who have been lifelong friends of Ames, and still are. Home picks up the Boughton's story, especially that of Glory, one of the daughters, and of Jack, the wayward and troubled son come home.
Each of the novels unfolds from the inner life of its major character—John Ames, Glory Boughton, and now Lila Ames. Detailed observation and rich dialogue introduce and develop the other characters and provide the drama of the novels. Through the dialogue and reflections we are introduced into the complexity and wonder of human life and relationships. Surprises and intrigue emerge, as does a portrayal of human life and relationship in all its messiness and meanness, glory and hope.
The religious permeates the pages. Robinson brings depths of theological reflection into her work, including her admiration of Calvin and her undying conviction of the supremacy and triumph of divine grace. One of the amusing sentences in Lila has Lila responding to something Ames says:
"That's Calvin. The way he talks about it, they must still have been doing it in the sixteenth century. Four hundred years ago."
"I didn't even know he was dead. Calvin. The way you and Boughton talk about him" (Lila, 131).
It is likely, however, that stricter Calvinists will be less than happy with her universalist tendencies which are present in each volume, but especially so in Lila. Lila fills in the back story of Mrs Ames, and is a very different novel, because Lila's is a very different voice. Abandoned and stolen as a child, and cared for by a fugitive, Lila grows up isolated and lonely, scared and suspicious, hurting and ready to flee. Lila's inner reflections run seamlessly between reminiscences of an earlier time, and present thoughts and conditions. Much of the novel is about her learning to live a different life, to relax into a new kind of life completely foreign: to be loved, and to be happy. That she is married is as much a surprise to her as it was to Ames. That she will be a mother is a revelation, and the ground of new anxieties and hopes.
There is much to savour here, not least the beautiful and evocative style Robinson brings to her work. Her vision is of life suffused with grace, utterly permeated with divine providence even in the midst of the sheer ordinariness of everyday existence if only we have eyes to see it. Indeed, the providence is there even when we cannot see it, or can see it only dimly or in hindsight. But there is no easy faith here. Life may be ordinary; it may also be banal, cruel, and tragic. And yet divine grace is all around, tugging and calling gently to any and all. And grace—the divine goodness at the centre of it all—cannot bear to be without that which it loves.