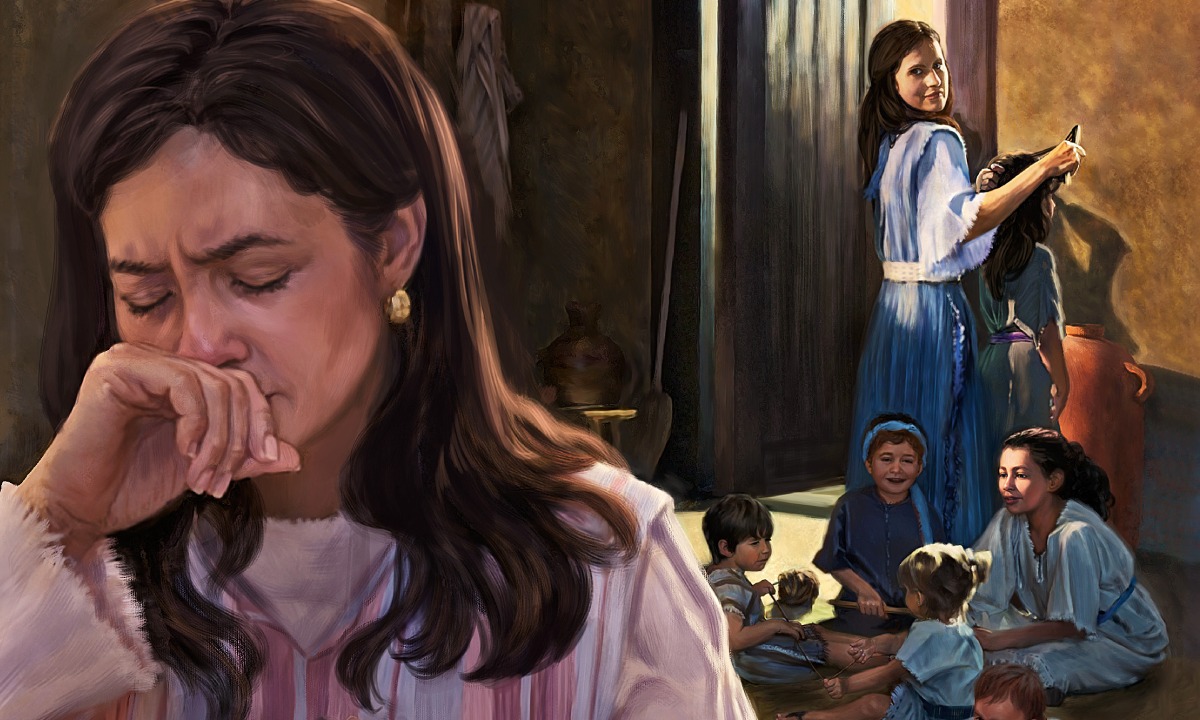 Read 1 Samuel 1
The story of 1 Samuel opens with the story of Samuel's birth and family, and especially of Hannah who is introduced as one of two wives of Elkanah, a devout and rather wealthy man from Ephraim. That Elkanah has two wives is unexceptional in the text and suggests that the practice of polygamy was not uncommon in ancient Israel, though it was probably only practiced by those sufficiently wealthy to support two wives.
But all is not happy in Elkanah's household—a regular note in biblical portrayals of polygamist households (cf. Abraham and Sarah, Rachel and Leah), and echoed to some extent in the recent HBO series Big Love. While polygamy may not have been uncommon, it seems the biblical portrayals of the practice present it in a manner that indicates it is less than what God intended. Hannah is first mentioned of the wives which suggests she may have been the first of Elkanah's wives. But Hannah is also childless. Peninnah, the second wife, has multiple children, both sons and daughters, and provokes and torments Hannah on this basis. Neither woman is enviable; both have reason to be unhappy: Hannah on account of her childlessness, and Peninnah on account of Elkanah's apparent preference for Hannah. Hannah's heartache in the story is palpable, Elkanah's love notwithstanding. Indeed, female commentators on the book note Elkanah's patronising attitude toward Hannah, and his seeming blindness to her distress.
1 Samuel 1:8
And Elkanah, her husband, said to her, "Hannah, why do you weep? And why do you not eat? And why is your heart sad? Am I not more to you than ten sons?"
Elkanah is viewing Hannah's distress through only his own eyes, aware only of his own situation and desires. Sons were evidently more important to him than he is willing to admit, for if Hannah were in fact his first wife, the lack of sons led him to marry Peninnah. The daily presence of her rival was testimony to Hannah that in fact, she was not loved simply in and as herself, but also—or worse, simply—on account of her function as child bearer. In tribal and clan-based societies, a woman's fertility is her primary gift, for children, and especially sons, are the future of the family and of the society generally. For Hannah, her childlessness is not simply a tragic personal disappointment, but a marital and social failure.
Verse five provides the reason for Hannah's failure to conceive: "the Lord had closed her womb." It is likely that this is more than a pious accounting for the situation, a referring of all outcomes to the hand of God. Rather, in an agrarian environment where even the people of God participated in the worship of fertility deities, the text immediately regards Yahweh as lord over all matters of fertility. It is Yahweh who has closed her womb; it is only Yahweh who can open it (Francesca Aran Murphy, 1 Samuel BTCB, 8). Thus in her desperation and grief, Hannah pours out her heart to God, and makes a deal with him: if God will grant her a son, she will devote him to the Lord for the whole of his life.
The chapter also introduces Eli and his two sons as priests at Shiloh which had become the centre of Israel's worship. Although in this chapter we learn nothing of Hophni and Phineas, Eli reproves Hannah and is critical of her. It is easier to criticise an unknown woman than to reprove his own sons—as we shall learn in chapter two. He, too, is insensitive of her heartache and the depth of her anguish. Hannah, it seems, is utterly alone in her grief, with only Yahweh as her hope and comfort.
Hannah's prayer was desperate, focussed and prolonged. She came to God in her misery, praying at the place of prayer, and despite initial misunderstanding during which she defended herself against accusation, received a blessing from the high priest. Old-time Pentecostals used to speak of "praying through." Hannah "prayed through" to peace and to blessing. Her prayer was a cry for recognition, offered in the context of worship and sacrifice—"and the Lord remembered her" (v. 19). Just as God "remembered" Noah stranded in his ark (Gen 8:1), and his people when they cried out to him in the bondage of slavery (Ex. 2:24), so now he has remembered Hannah and opened her womb to conceive a son—one who would become leader and judge of God's people.