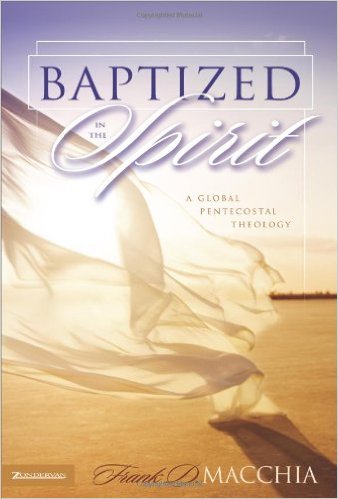 Frank Macchia, professor of theology at Vanguard University, is a leading Pentecostal theologian and author of many books and articles on the person and work of the Holy Spirit. I read about half of his Baptized in the Spirit: A Global Pentecostal Theology (Zondervan, 2006) when it was first released, and began reading it a second time before my lecture at Princeton earlier this year. Over the next few weeks I will post some chapter summaries from this important work in which Macchia explores and extends this central Pentecostal theme.
Introduction
In his brief introduction Macchia argues that "For all their talk about the importance of pneumatology, Pentecostals have yet to couch their narrow pneumatological interest in charismatic/missionary empowerment within a broader pneumatological framework" (18, original emphasis). His aim is to provide just such a framework, expanding understanding of the Baptism with the Holy Spirit (BHS) beyond the narrow confines he finds in the Pentecostal doctrine. He refuses to set the writings of Luke over against those of Paul as some Pentecostals have done. "One needs help from Paul and other canonical voices to negotiate a broader and more integrated conception of Spirit baptism as an eschatological event that is complex in nature" (15). Thus, Macchia defines Spirit-baptism as an eschatological act of the Trinity, its nature being an outpouring of divine love, an experiential reality in the life of God's people, and functioning toward the witness (and establishing?) of God's kingdom.
Chapter Two: Spirit Baptism and Pentecostal Theology
In this chapter Macchia argues that Spirit-baptism is the major Pentecostal theological distinctive, but that this distinctive has been marginalised in recent Pentecostal theology. He suggests four reasons for this:
The inability to coherently relate the sanctifying and empowering work of the Spirit;
The doctrinal and practical diversity of Pentecostalism;
The supplanting of the Spirit-baptism metaphor by eschatology in recent Pentecostal theology; and,
The locating of Pentecostal distinctiveness in theological method.
Macchia does not find any of these reasons compelling but also seeks to recast the Pentecostal doctrine of Spirit-baptism in light of these realities. Specifically, he wants to view Spirit-baptism as a trinitarian eschatological act that both purifies and empowers, whose essential nature is participation in the love of God. He accepts the exegetical stance of Pentecostal biblical scholars such as Roger Stronstadt and Robert Menzies who focus their understanding of Spirit-baptism on Luke's writings, but wants to expand it in more holistic directions. This is necessary if Pentecostalism is to contribute its unique grace-given accents to the ecumenical theological table.
Pentecostalism has been blessed and gifted by God with certain theological and spiritual accents. We do other Christian families a disservice if we do not preserve and cherish these and seek to bless others with them. Thus, ideal would be a reworking of our distinctives in a way that cherishes our unique accents but expands them in response to the broader contours of the biblical witness and diversity of voices at the ecumenical table (25).
Macchia's discussion in this chapter provides an excellent overview of recent moves in Pentecostal theology, and argues for a "return" to Pentecostalism's central distinctive. The only clarification I would make here would be to argue against Menzies and even Stronstadt, that the pneumatology of Acts is actually soteric in nature and not simply charismatic. Their view of Luke's pneumatology is unnecessarily narrow, and drives a wedge between ideas that in Luke are as one. Luke's pneumatology is both soteriological and charismatic, and his view of the Christian life is thoroughly pneumatological, empowered by the Spirit, and so missional. Here, Macchia's view of Spirit-baptism as participation in the life of the triune God could prove a helpful corrective to this deficiency in Pentecostal thought.