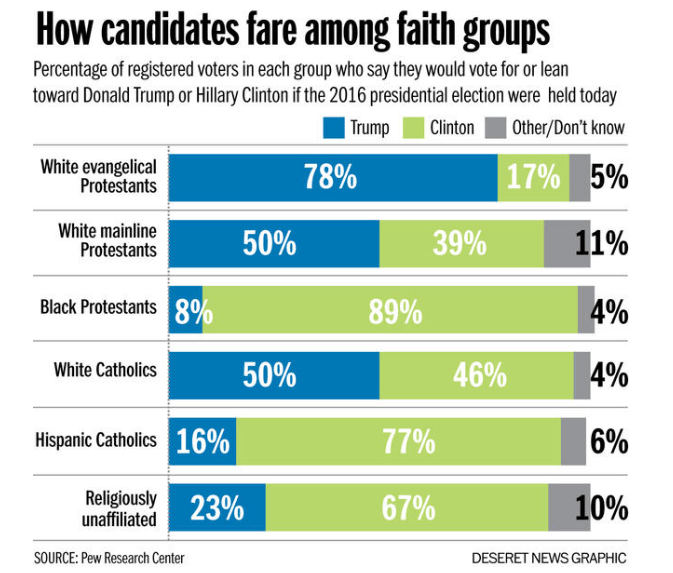 Since the election of Mr Trump last week, a number of news articles have appeared in the American press exploring the relation between his election and the evangelical vote. Reports indicate that over 80% of white evangelicals voted for Mr Trump. These articles explore why this was the case.
This first article by Emma Green ("The Evangelical Reckoning on Trump") provides a general overview of evangelical leaders' views regarding the relation between US evangelicalism and the Trump election.  She portrays an evangelicalism divided, especially along racial lines in the United States:
But a few predicted that this election could permanently damage attempts to create unity among evangelicals. "I spend most of my time in ministry talking and teaching about racial reconciliation," said Jemar Tisby, the president of the Reformed African American Network, a "theologically traditional" coalition of black Christians and churches, as he described it. "The vast majority of white evangelicals with whom I interact are on board and want to see a more racially diversified and unified church. However, when that same constituency overwhelmingly supports Donald Trump, I feel like they haven't understood any of my concerns as a racial minority and an African American."
Olga Khazan ("Why Christians Overwhelmingly Backed Trump") suggests that Evangelicals backed Mr Trump because they believed he would uphold their views on abortion, and perhaps even turn the clock back on abortion services:
Seven in 10 voters on Tuesday said the next president's appointment of a new Supreme Court justice was an important factor—presumably because this judge could have a decisive vote in cases involving abortion and other social issues. Voters "were mobilized by what's at stake & the clear contrast w/Hillary on life,"Family Research Council president Tony Perkins tweeted late Tuesday.
Richard Land, president of Southern Evangelical Seminary and part of Trump's evangelical advisory committee, "believes evangelicals were motivated to vote in unprecedented numbers because of Hillary Clinton's record on abortion," according to the Huffington Post.
Carl Trueman ("A Tale of Two Marxisms") rather glumly argues that Americans have received the politician they deserve: a perfect mirror of what American culture has become.
Cool chic and celebrity connections are now far more important than coherent policies and personal integrity. And Mr. Trump is surely no better. In many ways he is more representative of the moral and intellectual vacuum of this present age than Mrs. Clinton. He really is nothing more than an entertainer, the political equivalent of a foul-mouthed stand-up comic. Yet that is precisely what makes him the perfect politician for this present age. He is the great Hegelian synthesis of modern American culture: a perfect compound of know-nothing populism, undisciplined appetites, and vacuous entertainment. Do not waste time lamenting his advent. He was inevitable: He is the very embodiment of the World Spirit.
What Trueman does not discuss is the implication that American evangelicalism has largely become culturally assimilated to the "moral and intellectual vacuum of this present age."  I suspect, however, that he may agree with this suggestion.
Darren Guerra ("Trump, Evangelicals, Religion & the 2016 Election Exit-Polls") argues that evangelical support for Mr Trump only rose to the levels it did after the Presidential race was reduced to the two primary candidates. That is, their support was reserved. Nevertheless, that they did support him in the end was due, perhaps, to their playing a longer game: 70% of evangelical or religious voters voted with an eye to the Supreme Court.
Given the large gaps between plurality support for Trump in the primaries and majority support for him in the general election, evangelicals clearly needed time to warm up to Trump. Evangelical support for Trump, while robust, seems to have been driven by prudential judgment and fear of a Clinton presidency, rather than by blind acceptance. To the extent that this is true, evangelical support for Trump may very well be "contingent support" that could evaporate if Trump does not deliver as promised.
Two weeks before the election Russell D. Moore, President of the Ethics & Religious Liberty Commission of the Southern Baptist Convention, gave the 29th Annual Erasmus Lecture with the (to my ears) somewhat dubious and uninspiring title, "Can the Religious Right Be Saved?" Moore was a vocal advocate of not voting for Mr Trump in the months prior to the election. The lecture is well worth listening to. The video can be found here; the podcast here.