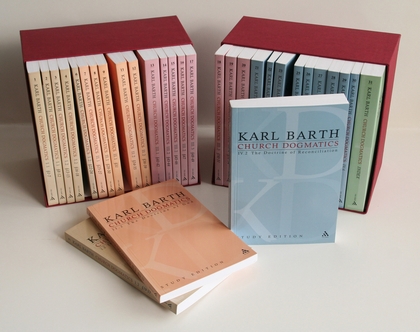 Selection: The Church Dogmatics II/2:3-12, The Orientation of the Doctrine .
Barth begins his account of the doctrine of election by reviewing the method he has applied in his earlier volume on the doctrine of God; that is, he will allow only Jesus Christ as he is attested in Scripture to be the first and final word in theology. Having established his methodological point, he goes on to insist that the doctrine of God can never be a doctrine of God alone, or put differently, a doctrine of a solitary or isolated God. A Christian doctrine of God—made known in Jesus Christ—includes the reality that God stands in a definite relation ad extra such that we cannot speak of God correctly apart from this relation. This relation is the covenant between God and the man, Jesus Christ, and the people represented by him. God's decision for this covenant is a divine self-determination such that we can no longer think of God in abstraction from this man, covenant and relation (5-9).
Jesus Christ is indeed God in His movement towards man, or, more exactly, in His movement towards the people represented in the one man Jesus of Nazareth, in His covenant with this people, in His being and activity amongst and towards this people. Jesus Christ is the decision of God in favour of this attitude or relation. He is Himself the relation. It is a relation ad extra, undoubtedly; for both the man and the people represented in Him are creatures and not God. But it is a relation which is irrevocable, so that once God has willed to enter into it, and has in fact entered into it, He could not be God without it. It is a relation in which God is self-determined (7).
The covenant relation established by God has two aspects. First, because God is the sovereign lord of the covenant it is a covenant of grace, and thus of love and freedom, the covenant of the God who loves in freedom. Second, as Lord of the covenant, God claims humanity as his covenant partner. Grace also rules, and those claimed by God are made responsible to God. As such, election issues in ethics. "Being responsible" is the nature and meaning of human existence.
God ordained and created him as partner in this covenant; God elected and called him to that position; and in that position He makes him responsible. How could God draw him to Himself, as He does, without making him responsible? God constitutes this "being responsible" the whole meaning of his existence (12).