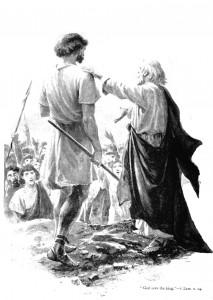 I started my talk at Princeton, and my ANZATS talk this week in Melbourne, with a reference to this biblical passage. It is, perhaps, a little unusual to start an academic paper this way, but the topic allowed it, and I enjoyed it. The title of my talk was "'Changed into Another Man': The Meaning of 'Baptism with the Holy Spirit' in Karl Barth, in Conversation with the Pentecostal Doctrine." Here is the beginning of my talk with a reflection on this passage.
*****
The title for my paper today includes a phrase taken from 1 Samuel 10, the story of Samuel anointing Saul to be Israel's king. The main point of the story, however, is not Samuel's anointing Saul with oil, though that anointing is not without significance: it confirms the divine election of Saul for the service to which God has called him and affirms the same election to the young man. As such it has symbolic, confirmatory and declarative aspects. Nevertheless it is not Samuel's oil that actually equips Saul for the service to which God has called him. Rather it will be the presence of God given him when the Spirit comes mightily upon him.
1 Samuel 10:6-7, 9-10
"Then the Spirit of the Lord will come upon you mightily, and you shall prophesy with them and be changed into another man. It shall be when these signs come to you, do for yourself what the occasion requires, for God is with you." … Then it happened when he turned his back to leave Samuel, God changed his heart; and all those signs came about on that day. When they came to the hill there, behold, a group of prophets met him; and the Spirit of God came upon him mightily, so that he prophesied among them. (NASB)
As a young Pentecostal pastor I preached from this passage emphasising those aspects of the passage which highlighted the central doctrinal Pentecostal distinctives: the Baptism of the Holy Spirit as an experience of the Holy Spirit to empower Christians for witness and ministry. This experience was separate from and subsequent to conversion, and was accompanied with the gift of tongues as the initial evidence that one had received 'the Baptism.' This was a transformative experience by which we 'are changed into another person.'
These verses and others like them spoke clearly to the condition of our lives and the experience of God that we had received. Like Saul we had been wandering through life looking for 'donkeys' that could never be found, all kinds of donkeys which could never satisfy; when suddenly, inexplicably, we were turned aside from our path, thrown off our course, encountered by the reality of the divine call and presence that opened up a whole new world to us, a 'strange, new world' we might say, the world of God. Like Saul, we were called into God's service; like Saul, we were called to inherit a kingdom. And like Saul we too experienced the coming of the Holy Spirit mightily into our lives, a transformative power such that we too, like Saul, were given a new heart, and we too, like Saul, were 'changed into another man.'
Some may say that our exegesis was poor and our hermeneutics poorer still. Certainly we were pre-critical in our reading of biblical texts. Nevertheless, although we may have been hermeneutically naïve, at least we had an expectancy of the presence of God in powerful, life-transforming ways! At least we had a sense of being captured by God and called to participate in the dynamic movement of God's kingdom at work in the world! At least we had, as James McClendon has said, a 'shared awareness of the present Christian community as the primitive community and the eschatological community' (Ethics: Systematic Theology Volume 1, Rev ed., 30). Although referring generally to all kinds of 'baptistic' groups, McClendon's definition captures something essential concerning the ethos of classic Pentecostalism: we were the eschatological people of God identified and in continuity with the community of God's people found in Scripture. Their story was our story. Our hermeneutic may have been more implicit and inchoate than explicit, but none the less real for all that.
Yet if I were preaching this passage today I would preach it differently in some respects. I have come to realise with many others that the Pentecostals' experience was superior to their explanation of that experience. I would not be concerned to proclaim a strict two-stage reception of the Holy Spirit. Nor would I teach the gift of tongues as the so-called initial evidence of the Baptism with the Holy Spirit. I would, however, still speak of the experiential aspects that often accompany the Spirit's coming, by which I mean a palpable sense of divine encounter. I would still emphasise the prophetic nature of the Spirit's presence, including the idea that the Spirit's coming in Scripture normally issues in inspired speech events and/or divine direction. I would seek a more expansive understanding of the Spirit's presence, not limiting it simply to empowerment. Finally, I would emphasise even more strongly the transformative intent and nature of the Spirit's self-gift, and link this transformative intent to the service of God's purposes for his people and his world.
At its heart and at its best, the Pentecostal idea of Baptism with the Holy Spirit is not an explanatory model justifying an experience, but the experience and the ethos itself. Those who have been baptised in or with the Holy Spirit have been plunged into a new life with God. Their lives have been immersed in the dynamic, sanctifying, liberating and transforming presence of the Holy Spirit. They have been made participants in the divine fellowship, partakers of heavenly powers, and have been caught up in the ecstatic movement of the eschatological Spirit's activity in the world. Their lives have been determined by this singular event, with the Spirit's presence expressed henceforth in their lives in manifestations of spiritual gifts, in sanctification, mission and worship. At its heart and at its best, then, Pentecostalism refers to a people who have been encountered and transformed by God, whose lives are in-spirited in fruitful and dynamic ways, Spirit-filled and Spirit-directed for they have been made participants in the divine fellowship and mission.