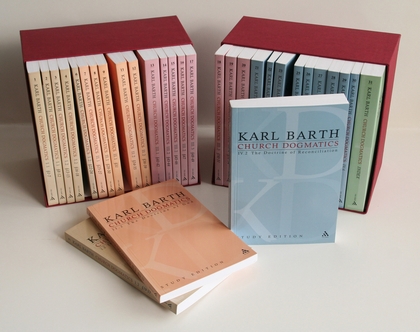 Selection: The Church Dogmatics IV/4:23-30, Baptism with the Holy Spirit.
Barth now drills more deeply into the primary question he is discussing in this section: how is it that something which took place in the history of Jesus Christ becomes an event in us? He does so by exploring two presuppositions associated with his "event" language:
The divine change in which the Christian life is founded has been described as an event. Viewed from above, this means that the history of Jesus Christ becomes once in time the origin and commencement of the reorientation and refashioning of the life of a specific man liberated therein. Seen from below, it means that once in time a specific man is liberated for the reorientation and refashioning of his life in the history of Jesus Christ as his origin and commencement (p. 23)
In these pages Barth explains how the 'event' of Christian faithfulness takes place in the lives of particular individuals. Two things are necessary, which Barth refers to as his two presuppositions.
The first presupposition, which he calls 'viewing this event from above' has to do with God's faithfulness to humanity generally in the person and history of Jesus Christ. Because Jesus Christ is the Representative of every person, what takes place in him – back there, back then – takes place for every person and in their stead. On their behalf Jesus Christ is faithful to God and his faithfulness is theirs. His death includes them, and so too does his resurrection. In him, they have been faithful to God, have received forgiveness of sins, and been reconciled to God. Thus Barth says,
We presuppose that the history of Jesus Christ which took place in time pro nobis, His birth, His being as a preacher of the imminent kingdom of God, and finally His crucifixion, which fulfils the purpose of His birth and being, contains the power to become the factor which posits a new beginning in nobis, in the temporal life of man (23).
How does this history—then and there—become the factor which posits a new beginning in our life—here and now? How is the power of this history communicated to each person? Barth's answer is simple and profound: the resurrection of Jesus Christ means that the power of his history is no longer limited to his historical existence, but has broken the banks and overflowed the borders of that historical existence, such that the risen Lord Jesus Christ himself is now present to every person in every time, and further, is in every person. His resurrection is the manifestation of his perfect work for every person, a divine pledge and promise pledged and given to every person.
In Jesus Christ God has taken up the cause of every person and been faithful to them. This divine faithfulness is the ground and foundation of Christian life, because this history of Jesus' perfect obedience as our Representative and Liberator is made fruitful, efficacious and immediately present to every person through the resurrection of Jesus from the dead. In other words, Jesus' death and resurrection has changed the situation of every person with respect to God. God has been faithful to them and has taken away the sins of the world.
Barth's second presupposition, which he calls 'viewing the event from below,' has to do with human faithfulness to God in response to God's faithfulness to them. Whereas God's faithfulness to humanity in Jesus Christ concerns humanity as a whole, now God's work in the Holy Spirit is concerned with particular individuals. Once more Barth elucidates his presupposition:
In the life of these men, certainly not apart from the awakening, quickening and enlightening power of the history of Jesus Christ demonstrated in his resurrection, a power is at work which makes these men free, able, willing and ready to give this event a place, the central place, in their willing and thinking, a place where it may exercise a force and authority which are seriously and ultimately decisive. We presuppose that this power enables, permits and orders them, that through the history of Jesus Christ it both commands and liberates them, to become responsible subjects of their own human history, which, renewed by the presence of the living Jesus Christ, has become a history of salvation rather than perdition (26-27).
That this divine change which has occurred in the history of Jesus Christ for all and in all may then actually take place in the life of a particular person is the work of the Holy Spirit:
In the work of the Holy Spirit this man ceases to be a man who is closed and blind and deaf and uncomprehending in relation to this disclosure effected for him too. He becomes a man who is open, seeing, hearing, comprehending. Its disclosure to all, and consequently to him too, becomes his own opening up to it. In the work of the Holy Spirit it comes about that the man who with the same organs could once say No thereto, again with the same organs, in so far as they can be used for this purpose, may and can and must say Yes. In the work of the Holy Spirit that which was truth for all, and hence for him too, even without his acceptance, becomes truth which is affirmed by him. The pledge which was previously given to him and to all becomes the pledge which is received by him. The promise which was good for him and for all becomes the promise which is grasped by him. By him! Inasmuch as he himself affirms, receives and grasps! … The point is that the man on and in whom the work of the Holy Spirit is done has to put himself seriously at God's disposal in his creatureliness. … Moved by the Holy Spirit, he is opened up to the history of Jesus Christ as his own salvation history, and he thus begins to cry 'Abba, Father' (28-29).
For Barth, the work of Christ and the work of the Holy Spirit are not two separate works, but the one work of God, commencing in the life, death and resurrection of Jesus Christ, and continuing as a movement in the Holy Spirit which reaches its goal with the concrete awakening of specific individuals (29). Together, these two presuppositions elucidate the one work of God by whose power a divine change may take place in a person's life that they may become faithful to God, that they may be and live as Christians. Barth calls this one work of God by which specific persons become Christians, their "Baptism with the Holy Ghost" (30).
It is clear that Barth wants to ground Christian life and salvation wholly in the grace of God while also ensuring that the human agent is not rendered passive in the process. The individual must choose, must decide, must trust, and must act; that they can do so, however, is because they have been freed for this through the ministry of Jesus Christ and in the power of the Holy Spirit. Equally clear is Barth's contention that the term "Baptism with the Holy Spirit" refers not to an experience separate and subsequent to conversion, but refers specifically to the individual's conversion itself.