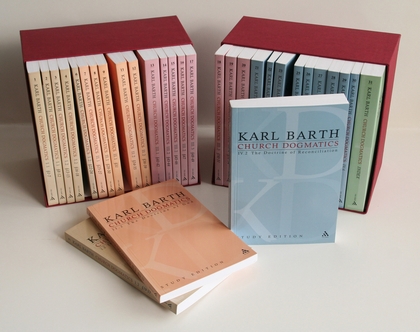 Selection: The Church Dogmatics IV/4:10-17, Baptism with the Holy Spirit.
In this section Barth pauses to ask whether Christian experience, that is, the experience of renewal that characterises Christian life, is simply one (quite poor) variety of a more general and common human experience. Is it simply another manifestation of the endless parade of philosophies and panaceas, religions and spiritualities that characterise human life? (10-11)
Barth rejects the possibility: All kinds of religious and non-religious experiences and renewals may occur to people, and may in their own way be very significant. Nevertheless they are not this event. Rather, they presuppose a general concept of deity and a direct relation of this presupposed deity with the human agent. This, of course, is precisely what Barth rejects. For Barth, the decisive event which constitutes the ground of Christian life is the very particular history of Jesus Christ.
The freedom of God in which is grounded man's becoming free to be faithful to God as God is faithful to him, the freedom in which the Christian life thus has its absolutely unique origin, is the freedom of which He, the God of Abraham, Isaac and Jacob, has made use in supreme majesty and condescension in the history of Jesus Christ. This history is the change, impossible with men but possible with God, and indeed possibly only by God's actual judgment, in which a man becomes God's friend instead of His enemy, a man who lives for Him instead of being dead for Him. It is the divine change which has been made for every man and which is valid for every man, but which is thankfully acknowledged, recognised and confessed by Christians. It is so as Jesus Christ is the One elected from eternity to be the Head and Saviour of all men, who in time responded to God's faithfulness with human faithfulness as the Representative of all men. As and because He was this, as and because, in the name and stead of all, He was born and suffered and died as the Man of God, as and because He was manifested for all in His resurrection as the One who did this for all, the change which took place in His history took place for all. In it the turning of all from unfaithfulness to faithfulness took place. In this history of His the Christian life became an event as the life of all. A Christian, however, is a man from whom it is not hidden that his own history took place along with the history of Jesus Christ. As a word spoken to him and received by him in the living power of the Holy Spirit, this has been disclosed to him. … The Christian is a man whose life Jesus Christ has entered as the subject of that history of His. … He is a man to whom Jesus Christ has given not just a potential but an actual share in that history of His. Thus Jesus Christ, His history, became and is the foundation of Christian existence; this and this alone (13-14).
Thus Barth affirms the utter uniqueness of Christian life, distinguishing it from all other experiences of human renewal, while simultaneously rejecting any and all approaches from natural theology. Jesus Christ as the Elect Human, as the Saviour and Representative of all humanity and of every person, is the ground and origin of human faithfulness to God. It is clear that Barth views this history as constituting an ontological alteration of the human condition. The life, death and resurrection of Jesus Christ has changed the situation of every person whereby humanity is now God's friend rather than God's enemy; in the power of the Holy Spirit, Christians are those who know this. More, Jesus Christ has entered their lives as the subject of this history in their life.
In a stunning statement Barth insists that "it is true exegesis, not eisegesis, to say that the nativity of Christ is the nativity of the Christian man; Christmas day is the birthday of every Christian" (15).
What does Barth mean by this extraordinary statement? Jesus Christ as the Representative of each and every person was born, lived, died and was raised again for them, in their name and in their stead. His solidarity and identification with all humanity is so complete that his baptism includes within itself that of his disciples. So, too, his death includes within itself our death also, so that we die in him and with him:
Jesus does not drink that cup for Himself alone. He is not baptised with that baptism in isolation. This all takes place in their stead and for them. Hence they, too, will die in His death, and therewith their entry into glory will be secured. In his death, therefore, He took the place of all….Inasmuch as He died the death in our place, we have it absolutely behind us. In His death we who deserved to die as He died are already put to death (16).