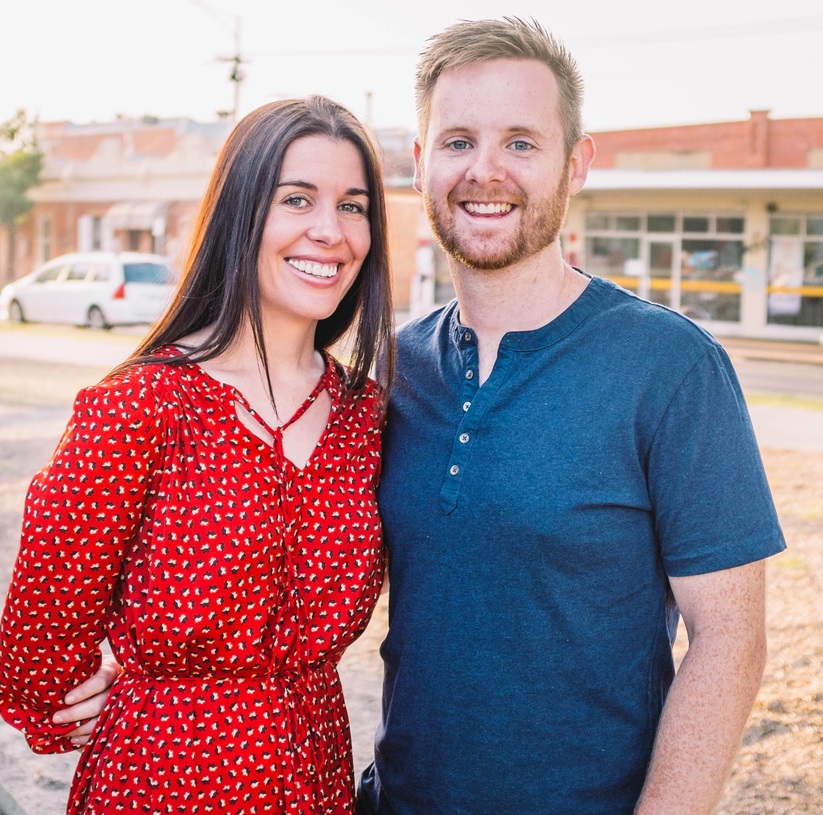 It has been a pretty busy couple of weeks, so I apologise for the lack of posts. I have just had the privilege of preaching at Church at: Collective, a relatively new church plant in Hawthorn, Victoria. Although I had to suffer the indignity of going to Hawthorn (think Dockers 2014; Eagles 2015), it is a blessed church, with a wonderful sense of God's presence in the worship and Lord's Supper, and rich community amongst the folk there. Pastors Nathan and Melissa (pictured) and their team are providing rich and substantial ministry for the congregation and people in their district. The church has been working its way each Sunday through Matthew's gospel, and so my appointed text was the little story of Jesus' rejection at Nazareth, at the end of the chapter on parables. Here is an outline of my  very first message in Melbourne…
1. Jesus Goes Home
The parables of Matthew 13 paint a vibrant picture of the coming and way of the kingdom. Its coming is inevitable, irresistible and progressive, but it is not necessarily easily. The kingdom faces resistance, opposition, and rejection.
Jesus' reception in his hometown is surprising: those who know him best reject his ministry. In a series of seven questions bookended with "where does he get this stuff?" his friends and neighbours conclude he is no one special, perhaps even a fraud. And they were offended at him. Earlier in the gospel, Jesus has pronounced blessing upon those who are not offended with him (11:6). Why were they offended? Why did they refuse to believe? Perhaps their doubts arose when they started considering all these common-place questions, contrasting what they have heard about Jesus with the everyday "facts" of who they "knew" him to be.
2. Reasons for Doubt
a) Some people doubt because they do not have sufficient background and simply cannot believe. They need first to be inducted into the life, knowledge and tradition of the community so they are prepared by the Holy Spirit to believe;
b) Some people doubt on account of the "family" of Jesus—just like in this passage. Gandhi once said, "I like your Christ, I do not like your Christians. Your Christians are so unlike your Christ."
c) Some people's doubt is experiential—unanswered prayer, difficulties of life and unmet expectations have left them wounded or disillusioned.
d) Some people's doubts are moral: they resist the call and the claim of the kingdom.
e) Some people's doubts are intellectual: the enigma of evil challenges their confidence in the goodness or even existence of God; or the prevalence of scientific naturalism seems to provide explanation enough of the world with the result that God is not needed.
Moments or periods of doubt are quite normal in the Christian life, and may even be the proof of an underlying faith, that in one's hearts of hearts, one actually believes. Nonetheless doubt is a serious threat for like a wound, doubt can fester into unbelief which is a hardness of heart and a refusal to trust God. In our text tonight, that is just what has happened.
3. Revelation (Matthew 11:25-28)
Although each kind of doubt may require a different response, in each case what is most required is an experience or deeper appropriation of revelation—something easier said than done. Revelation of God is not something we control but something we receive. It is, however, something for which we might pray, both for ourselves and for others. Earlier in his gospel Matthew speaks of the revelation of God given to those who are children (Matthew 11:25-28). This text shows first, that revelation has an aspect of divine sovereignty; it also insists that whosoever will respond to Jesus' call may come. Unbelief is not inevitable: we may come. Second, the text also shows that God remains hidden, even in his revelation. The treasure of the gospel always comes clothed in an earthen vessel (Bruner). The glory of God was hidden in the humanity of Jesus. When the people of Nazareth stumbled over Jesus' apparent humanity, they were not open to receive the knowledge of his divinity.
God's revelation, whether in Christ, Scripture or the proclamation of the church, works in a similar way: it comes clothed in the weakness of humanity. If we stumble or become offended at this human weakness, we will miss the revelation God gives of himself to us.
4. Faith
And Jesus did not do many miracles there because of their unbelief (cf. Mark 6:6). According to Frederick Bruner, "Faith is the ordinary way to Jesus' help. When faith is not present…not much happens" (2:62). The corollary is also true: where faith is present, it just may be that we will see and experience the saving presence and power of God. Faith occurs in the hearts of those who hear the word of the kingdom, receive it gladly, and understand it. It is amongst those that the word of the kingdom brings forth fruit.
And so Jesus says, "Come." Will you come? Will you trust? Will you trust on the authority and confidence of others who have gone before you? Will you open your heart to Christ?