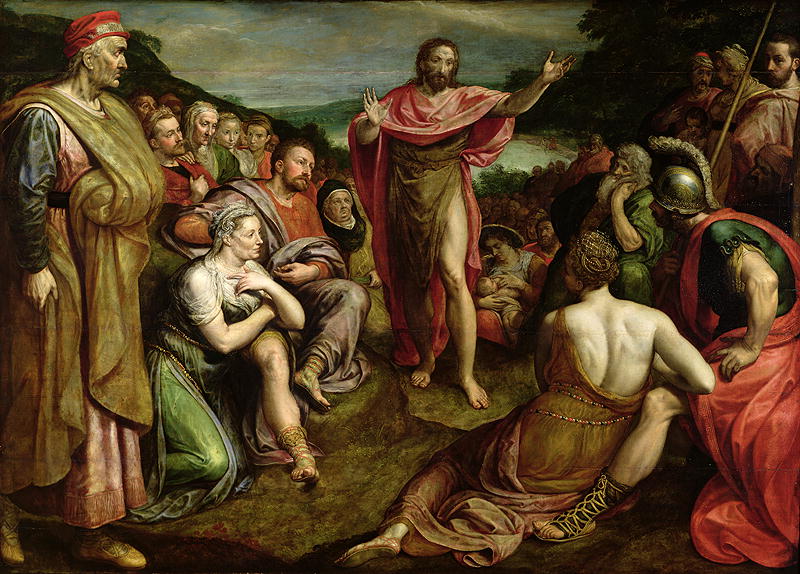 Luke 3:10-11
And the crowds asked him, 'What then should we do?' In reply he said to them, 'Whoever has two coats must share with anyone who has none; and whoever has food must do likewise.'
Read the whole section (Luke 3:1-18) here.
John lashes his hearers as he preaches the "good news" to the people (v. 18). And these are those who have come out to the wilderness to hear him! Might he be even harsher with those who refuse to come? Many Christians today would not recognise this sermon as good news at all, while others think this is the only way to authentically preach "the good news." Tear strips off the people! Flay them with words! Drive them to repentance!
John is obviously anticipating the end of all things; the wrath is coming, but so is salvation (vv. 6-7). Even now the axe is laid to the root of the trees (v. 9). Now is the time of decision. Now, before time expires and the opportunity is lost. Soon the Mighty One will come, gathering the grain into his barn—but the chaff!—the chaff will be burnt with unquenchable fire; the unfruitful tree, too, will be cut down and thrown into the fire (vv. 16-17, 9). John's fierce rhetoric is born of urgent times. This is not simply eschatological vision, but apocalyptic certainty. It is a minute to midnight and the axe is poised to strike. Judgement is inevitable and imminent, and the people flee like vipers before a spreading fire. So John calls to the people to repent while they still can. There is but one possibility of escape.
They have come for baptism. They have come because they are Abraham's children. They have come because he is a prophet, the first in four hundred years. They have come because they are curious. The news of the coming judgement and salvation is good news indeed—so long as one is on the right side of the judge! And so John preaches repentance. His baptism is a baptism of repentance (v. 3), though baptism alone will not suffice. Not religion or ritual, but repentance. Not belonging to the right group outwardly, but a new life demonstrating that we are indeed, not a brood of vipers, not simply children of Abraham, but children of the kingdom of God (cf. Matthew 3:2). "Who warned you to flee from the wrath to come?" I. Howard Marshall suggests the question is rhetorical and indicates the sheer impossibility of escaping the coming, total judgement, least of all by an "external, ex opere operato rite" (Marshall, The Gospel of Luke [NIGTC], 139).
In verse 8 John warns the people to "bear fruits in keeping with repentance." The analogy of verse 9 speaks of "good fruit" and warns that every tree not bearing such fruit will be cut down and destroyed (cf. Matthew 7:19 where the warning is also found on Jesus' lips). What fruit does John have in mind?
Some commentators suggest that the fruit is the repentance itself, that baptism must be undertaken in repentance if it is to be genuine and effective. Marshall, however, notes that the word for "fruit" is in the plural rather than the singular (karpous), and that the phrase as a whole (poiēsate oun karpous axious tēs metanoias) suggests "fruits befitting repentance" (140). At this point Luke includes additional information not found in Matthew (i.e. vv. 10-14), which suggests that Luke identifies precisely the kinds of fruit he has in mind. The crowd ask "What then shall we do?" (v. 10), to which John responds,
Whoever has two coats must share with anyone who has none; and whoever has food must do likewise.
John identifies acts of generosity toward the poor as a key indicator of true repentance in the kingdom of God. This is more than simply having a "generous heart" or a generous intent, but involves concrete acts of compassion, sharing, participation and solidarity.
The good fruit of verse 9 is worked out in terms of good works: works of love, kindness and mercy rather than works of the law and more than religious works of ritual. Soldiers may keep soldiering and tax collectors keep collecting, but they must do so without violence or greed, avoiding the sins of their profession (Marshall, 143). Certainly John wants the people to be baptised and receive the forgiveness of sins. But their faith must be genuine, and so repentant, and their repentance must move in directions which characterise the love, kindness and mercy of the God who cares for every living person.
To be baptised is to enter into the life and community of the kingdom of God, freely offered to us through the forgiveness of sins. Yet this involves repentance, a decisive turning from the kinds of sins which render present life antithetical to that kingdom. To those, like me, who are so very rich—I have far more than two tunics, and I never go hungry—this word comes as a great challenge. John is interested in deeds. Note the threefold question from the crowd, the tax collectors and the soldiers, "What shall we do?" What, then, do I do with respect to the poor in specific, concrete deeds of sharing? And do I do it from a distance, writing a cheque or making a bank transfer, or is it a case of love with dirty hands? Is my sharing personal and participative or impersonal and aloof? Is my life characterised more by the way of the kingdom or by the way of the world?
This verse has been unsettling me all week.