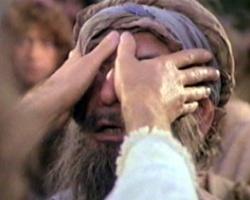 Mark 10:51
And answering, Jesus said, "What do you want me to do for you?"
Aside from all the literary and symbolic significance of this little story within Mark's overarching narrative, this is a wonderful miracle story, as well as an amazing statement from the lips of Jesus.
Bartimaeus was a hopeless case: blind, poverty-stricken, socially isolated. But he had obviously heard of Jesus and cried out for mercy, ignoring and resisting all attempts to silence him. He pushed through the crowd and gained the ear of Jesus who called for him and asked this amazing question: What do you want me to do for you? After healing him, Jesus said, "Go your way; your faith has made you well."
In fact, it was God's power operative in and through Jesus that made him well. But Jesus said it was his faith that made him well. His faith.
This verse, like many others in the gospel of Mark, is a great challenge and a great encouragement. For Mark, faith is the fruit of hopelessness and desperation, a turning to Jesus as to one's only hope. Yet faith has a potential far beyond what we could ever imagine: Fear not! Believe only!
What is the character of Bartimaeus' faith, at least as it is presented to us in this story? By far the most important feature is the object of his faith: Jesus. We could, however, speak also of his single-minded focus and determination, and his persistence. The nature of his faith is also indicated in his action once healed. Whereas Jesus told him to "go his way," Bartimaeus "followed him on the way." He chose Jesus' way rather than his own way. Jesus was "on the way" to Jerusalem, to Calvary, and to death; and Bartimaeus followed. Some people want faith in the same way they want a tool: to get a particular job done and then put the tool away. Bartimaeus' faith drew him into a life of following Jesus in the way of the cross.
For me, the astonishing feature of the story is Jesus' incredible question: What do you want me to do for you? Is this question only for Bartimaeus? Might it also be for those who cry out to Jesus in their need and determine in their hearts to "follow him on the way"? Nevertheless the question is too big for me: what could I possibly ask? And yet, Jesus asked it as a simple question and Bartimaeus gave him a simple and very specific answer.
What do you want me to do for you?
How might you answer?