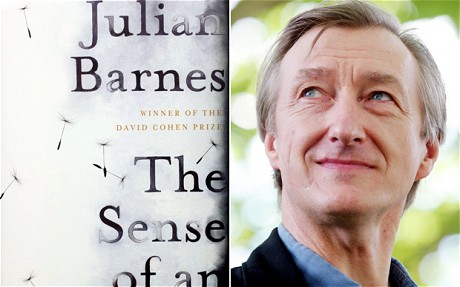 I had to read this book twice because after the first time through, I didn't have a sense of its ending. Like the main character, I "just didn't get it." I had read quickly and missed some clues along the way. Fortunately, it is only a short book – just 150 pages – and easily read.
Awarded the Man Booker prize in 2011 (one impolite reviewer suggested it was awarded to the right author for the wrong book), The Sense of an Ending is the first-person narrative of Tony Webster recounting particular aspects of his life story from the perspective of his latter years. It is a book about memory and history, a reflection on time which "holds us and moulds us" (3), "bounds us and defines us" (60), and "first grounds us and then confounds us" (93). Important questions of memory, identity, responsibility, blame, and relationships are raised by means of a very accessible story about eros and thanatos – love/sex and death – which, we are told early on, is the primary subject matter of all great literature.
I enjoyed the playful way that Barnes has written his book, the way he keeps circling back on key incidents, clarifying, enhancing, correcting – and making us question – our memory. It is not so much a book about memory as an exercise or an immersion in remembering. Fragments of memory arise and the reader is drawn more deeply into the story. The main characters are well developed and believable, and the story has both humour and pathos.  I would like to read it again sometime, just for the pleasure of it.