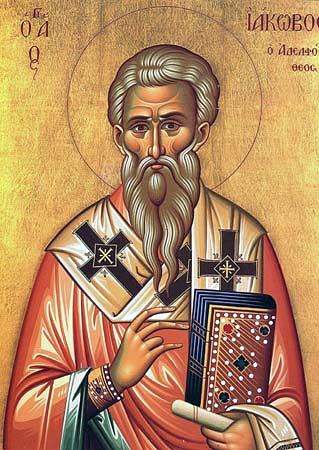 James 1:4
And let endurance have its perfect result, so that you may be perfect and complete, lacking in nothing (NASB)
James now uses a second imperative to instruct his listeners, commanding them to let (echetō) endurance have its full effect (NRSV), perfect result (NASB), or literally, perfect work (ergon teleion). In view of James' later discussion of faith and works, it is of interest that he introduces the concept of work here, at the start of his letter. Indeed, as we saw in verse three, the testing of our faith "works" endurance; now the believing community must let this work occur. That is, James commands his listeners to continue to persevere, to "keep on keeping on" for as long as the test continues. The testing of our faith produces endurance as we endure. As a muscle is strengthened through use, so endurance develops through exercise. The temptation is to capitulate before the test has run its course, to relinquish faith, to cave in under pressure, to walk away.
Just as James' first imperative (consider it all joy) was tied to a foundation of common knowledge (knowing…), so his second imperative is now tied to a purpose statement: so that you may be perfect and complete, lacking in nothing. James now holds before his listeners the end result of endurance if they will allow it to do its work: they will be "perfect." It is impossible to miss James' play on words in this verse, concerning the perfect work of endurance which results in the perfection of the people of God. The "full effect" or "perfect result" of endurance is not simply to outlast the particular test we are enduring, nor simply to grow more robust in endurance itself. Rather, it is the perfection and completeness of godly character. Perfect (teleios) and complete (holoklēros) function as synonyms, though with a slightly different sense. Teleios connotes a perfection beyond which there is no degree, whereas holoklēros denotes perfection in every part (Vlachos, 20). An interesting parallel to this verse is found in Paul's prayer of 1 Thessalonians 5:23 where he prays that the Thessalonians may be perfectly sanctified in every aspect of their being, that is, in their whole "spirit and soul and body." Douglas Moo (61) regards this perfection as the eschatological perfection towards which we strive but which will only be realised in the eschaton. Scot McKnight (81f.) prefers to see it not as "sinless perfection," but as real behavioural maturity, a way of life and being in which genuine virtue is a reality rather than simply an abstract ideal.
The final phrase—lacking in nothing—is simply a negative confirmation and restatement of the positive message of being "perfect and complete." To lack nothing, in other words, is to have everything. Such is the power of endurance, in James' vision of the moral life!
It is worth noting that James directs these exhortations to the community as a whole rather than to individual believers (adelphoi mou – my brothers and sisters; note further that all the grammatical signifiers are second-person plurals). It is the community of God's people which must rejoice in the midst of hardship and struggle, helping each person to understand their calling, and so to endure. It is the community of God's people which will ultimately be perfect and entire, lacking in nothing. When one particular member of the community suffers the whole community is threatened. When the community as a whole is under attack, each particular member has a crucial part to play, so that the whole community may be encouraged to rejoice and to endure.
*****
Thus James begins his letter to his suffering listeners with two imperatives supported by an appeal to what they know (v. 3), and to what they are destined to become (v. 4). His teaching here is not unique, however, and very similar passages are found elsewhere in the New Testament:
Romans 5:3-5
And not only this, but we also exult in our tribulations, knowing that tribulation brings about perseverance; and perseverance, proven character; and proven character, hope; and hope does not disappoint, because the love of God has been poured out within our hearts through the Holy Spirit who was given to us.
1 Peter 1:6-7 
In this you greatly rejoice, even though now for a little while, if necessary, you have been distressed by various trials, so that the proof of your faith, being more precious than gold which is perishable, even though tested by fire, may be found to result in praise and glory and honour at the revelation of Jesus Christ.
These passages are similar to James in both language and concept. In Romans, Paul notes that believers exult in tribulations (thlipsis) knowing that tribulation brings about (katergazetai) perseverance (hypomonē), and perseverance, proven character (dokimēn). The apostle Peter also writes to communities distressed by various trials, which serve to prove the genuineness of their faith and so result in glorification at the coming of Jesus. His point is slightly different to that of James who is not concerned with the proof of their faith but with their steadfastness.
That these three authors each use this common language and conceptuality suggests that this was traditional and common knowledge amongst the early Christian communities. It is on this basis that James can readily say, "Because you know…" They did in fact know this as common community knowledge. Lying behind James' exhortation then is a vision of what constitutes the Christian life, and in fact, what it means to be truly human: that is, to be a person and a community which is perfect, completely sound and whole, mature behaviourally, morally and relationally. The ground and possibility of this maturity is faith—right relation to God which issues in a "rightness" of being. The tests which assail the community intend to draw God's people away from this faith, to tempt them to seek their own justice and their own right, to become, in Luther's terms, homo incurvatus in se – humanity curved in on itself. But James will have none of this. Although his vision is urgently framed in terms of the apocalyptic confrontation of evil powers and eschatological hope, it has a very real and practical aim. James is not simply giving out good practical advice for "turning lemons into lemonade," so that God's people can be blessed in spite of trials. This is not a prosperity gospel whereby every trial is a stepping stone to greater victories so that we lack no (earthly) thing. James writes to shape the vision, character and way of the community in the world. God's intent is a people steadfast in faith and mature in character, living in the midst of the kingdom of darkness but bearing witness to the kingdom of light. No wonder trials come! Yet when and as they do arise, somehow, by the mysterious work of the Spirit of grace, the trials designed to destroy our faith, develop endurance and this endurance goes to work in us building character, maturity and virtue. In these opening verses of his letter then, James offers us a vision of what it means to be truly human, and indicates a process for realising this vision.