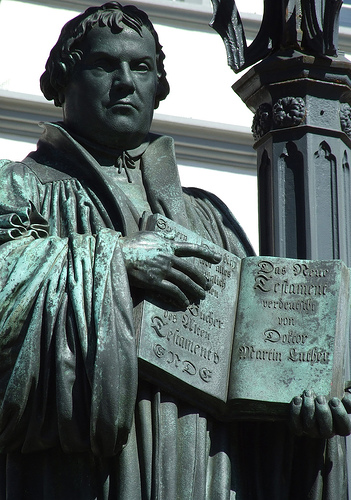 In an initial post, I provided an overview of the first part of this book by Scott Hendrix.
The second part of the book is comprised of ten chapters covering the period from 1522-1546. Here the pace of the book slows a little as Hendrix explores the developments of the Reformation's progress, and Luther's role and responses in them. Chapters nine and ten treat the early reforms at Wittenberg, initially without Luther, and later stabilised by his presence. Luther's reforming movement is presented as a "massive campaign of reeducation" (138), equipping the laity with sufficient theological and devotional frameworks, and knowledge so that their consciences and consequent religious practice were formed and reformed. Luther steadfastly resisted rigorist developments which either enforced reform on unwilling participants or bound their conscience with all kinds of rules. Instead he sought to liberate consciences and counter "unthinking piety."
Nor was Luther's concern limited to spiritual matters. He was concerned also for marriage as one of the goods of creation given by God, and for the education of children and well-run schools. In Luther's view, God's word and grace had given Germany an opportunity which it dare not refuse lest it fall back into misery and darkness, as had happened to the Jews, the Greeks, and now Rome and the Latins. Thus Luther's vision included cultural as well as ecclesial renewal. It was for these reasons that Luther resisted what he considered false initiatives and directions taken by some of his own associates such Karlstadt and Müntzer. According to Hendrix, the tragedy of the Peasant's War arose because "Müntzer had his own vision of what Christianity should be" (151)—a radical, politicised and apocalyptic vision of the kingdom of God realised in a purified Christian state. Luther believed the movement stirred by Müntzer was threatening to undo not just the Reformation but the whole social order.
Hendrix identifies 1525 as a pivotal year during which the profile of the German Reformation began to change from a populist movement driven from the bottom up, to a more formal institutional movement of renewal with momentum coming from the top down. That is, after 1525 the civil authorities began to bring the reforming energies under control. "As a rule, historians have lamented the shift from populist movement to government-authorized reforms, but for the most part Luther did not" (173): the Reformation required the support and protection of the civil authorities if it were not to be put down by its powerful opponents. Hendrix details formative ecclesiastical developments, especially the German mass, the new church order, and formal parish visitations for quality-control and oversight which together facilitated the establishing of a new form of (Evangelical) church. Luther wanted release from hierarchical control and false beliefs, but not from worship, order, faith, sacraments, and word. Evangelical worship would be "informal and spontaneous," arising from the communal experience itself and not imposed from above. Religion would not be confined to churchgoing but would spill over into daily life. Hendrix acknowledges,
If all of that resembles the ideal monastic life of common prayer and work—although stripped of celibacy and the demand for perfection, and adapted for all "earnest Christians" outside the cloister—it is no coincidence. Luther never completely abandoned the monastic ideal. The man left the monastery, but the monastery never left the man (176).
Nonetheless, Luther's refusal to limit the church to the "faithful," faith-filled or fully-devoted is of a piece with his theology: we are ever sinners in need of grace. Thus Luther rejected the perfectionism of the monastery while retaining other aspects of its ideal of a life devoted to God. His Small Catechism sought to instil the fear and love of God as the manner of Christian life such that God's people were free but did not "misuse" their freedom ((196-197).
Luther, of course, did not pursue his vision alone. Without Staupitz, Philip of Hesse, his many associates and those who took up the cause in other towns and regions, his Reformation would not have succeeded. In particular, Hendrix notes the crucial role played by Melanchthon—even in Luther's mind:
For this I was born: to fight and take the field against mobs and devils. Therefore many of my books are stormy and war-like. I must pull out the stumps and roots, hack away at thorns and thistles, drain the swamps. I am the coarse woodsman who must blaze a new trail. But Master Philip comes neatly and quietly behind me, cultivates and plants, sows and waters with joy, according to the gifts that God has richly given him (215).
"Luther was the bushwhacker willing to reject and condemn everything contrary to the gospel and let God take care of the consequences. Melanchthon was the gardener willing to cultivate an agreement between opposing sides so long as it did not silence the gospel" (219). In the end, both were needed and both played their part.