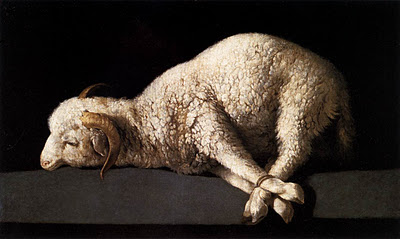 As a result of the anguish of His soul,
He will see light and be satisfied;
By His knowledge the Righteous One,
My Servant, will justify the many,
As He will bear their iniquities.
Therefore, I will allot Him a portion with the great,
and He will divide the booty with the strong;
Because He poured out his soul to death,
and was numbered with the transgressors;
Yet He Himself bore the sin of many,
and interceded for the transgressors.
Christians read this text as referring to Jesus—a practice as old as the New Testament (see, for example, Acts 8:26-35; 1 Peter 2:24), although the prophet never actually identifies the Servant he is speaking of. This Servant, God's Righteous One will make many others righteous—he shall justify many for He will bear their iniquities.
John Oswalt, following Westermann, reads verse twelve in the light of Isaiah 59:16, "And he saw that there was no man, and he was appalled that there was no one to intervene…" (Oswalt, The Book of Isaiah Chapters 40-66, 407; cf. 528). Because no leader in Israel would or could obtain deliverance for God's people, God took it upon himself to not simply 'intercede' in prayer, but to intervene (mapgȋaʿ) on their behalf. The efficacy of the Servant's work is the result of his intervention on behalf of transgressors—the unrighteous. He permitted himself to be counted among the transgressors, and indeed, intervened on their behalf. He poured out his soul to death, bearing their sins. Jesus was no unwilling victim, handed over to death by a violent God who demanded blood in order to forgive. He poured out his soul to death taking our place, standing among us, standing in our stead, bearing our sins.