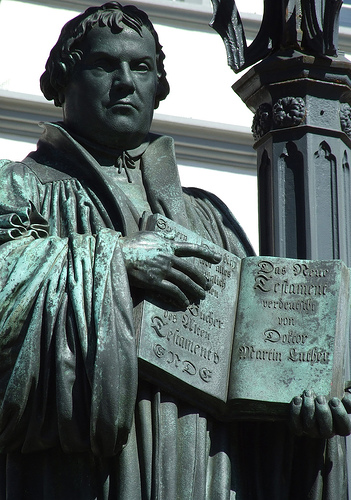 Scott Hendrix's comment on Luther's declaration at Worms is worth repeating:
Although Luther was aware that different interpretations of scripture could be valid, he did not waver. His answer to Von der Ecken was the long version of a blunt statement he had made to Cardinal Cajetan three years earlier: "Divine truth is lord also over the pope, and I do not await human judgment when I have learned the judgment of God." For Luther, the issue at stake in Worms was not how to interpret scripture but who could interpret scripture and discern the timely truth it contained. His "incontestable arguments" were based on what a text said and not on who offered the interpretation, that is, not on the pope's interpretation because he was pope. And that his 'conscience was captive to the word of God' was not an internal moral meter that measured right or wrong, but loyalty to the highest authority on which one depended for the truth. For Luther in 1521, that authority was the gospel found in scripture.
Luther was a theology professor at an institution that did not promise freedom of speech. He had sworn allegiance both to the Roman Church and to holy scripture, which he was obligated to teach. Initially he saw no contradiction between them. The indulgence controversy, however, forced him to choose, and he confessed to Cajetan that his loyalty to scripture was higher than his loyalty to the pope. His conscience was now captive to scripture and not to papal interpretations of scripture… (106).