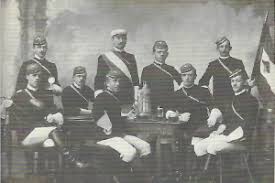 On June 3, 1959 Karl Barth was a guest at the Basel chapter of the Swiss Student Association Zofingia, a fraternity established 200 years ago in 1819, and of which Barth himself had been a member in his student days. The photo shows him at a function in about 1906 (seated RHS). Now a famous theologian, Barth had been invited by the association to address the question: What are the role and duties of the Christian as a political citizen? Does Christianity commit the citizen to a certain political stance?
Barth responded by writing ten brief theses on the topic, delivering his short address and then took questions. It is clear that the primary issue concerning his audience was communism, especially Russian communism. One interlocutor insisted it was a Christian duty to resist it. Barth responded:
Reaction against Communism [is] only necessary when the Russians are at Lake Constance. We have not yet passed the test [that would then have to be passed]. What we have done up to now is stupid chatter and has not freed anyone from Russian subjugation. To join in, sounding the same note and writing condemning articles, is not necessary since virtually everyone is agreed about Communism. It was different at the time of National Socialism. An acute danger was manifest. Whether out of fascination or fear of attack, numerous people all over Europe began to yield and proposed accommodations. 
To this, one Dr Gerwig answered: "Communism is a great danger for Christianity. We must fight before it reaches Lake Constance." And then came Barth's marvellous riposte:
A Christianity that is in danger of Communism deserves to perish. The best and surest weapon against Communism is that one become a good Christian.
Barth was often criticised because he did not condemn Communism in the 1950s the way he had condemned the National Socialists in the 1930s. He argued that they were two completely different systems and so not comparable. This does not mean he supported Communism; he did not. But I love his comment. It is rhetorical, to be sure, but he is speaking of a form of Christianity rather than the lives of individuals confronting a brutal empire. Nonetheless, a "good Christian" is one who understands and lives in accordance with reality of the world-reconciliation accomplished in Jesus Christ, and so is bound to him as the "one Word of God which we have to hear  and which we have to trust and obey in life and in death" (Barmen Declaration, thesis 1). Bound to Jesus Christ, the Christian is liberated from every lesser allegiance and claim, and find their life and hope solely in him and the promise given to humanity in him.
Further, Jesus Christ is God's mighty claim upon the Christian's life, and thus "through him befalls us a joyful deliverance from the godless fetters of this world for a free, grateful service to his creatures" (Barmen Declaration, thesis 2). The church is "solely his property, and it lives and wants to live solely from his comfort and from his direction in the expectation of his appearance" (Barmen Declaration, thesis 3).
This kind of Christianity has a role to play within the culture but is neither over-awed nor overwhelmed by it. In word and deed it bears witness to the coming kingdom, even if the result of this witness is suffering and shame. It holds fast to its confession in the midst of a sinful world "with its faith as with its obedience" (thesis 3).
This is a Christianity that knows whose it is, a Christianity for whom Mark's gospel and the letter to the Hebrews (not to say, the Book of Revelation) are not alien, but well-known, lived. They know First Peter and walk in the path of its author, as he walked in the path of the Master.
My guess is that Barth would say the same today to those Christians concerned at the increasing secularity of Western culture: "A Christianity that is threatened by secularism deserves to perish."