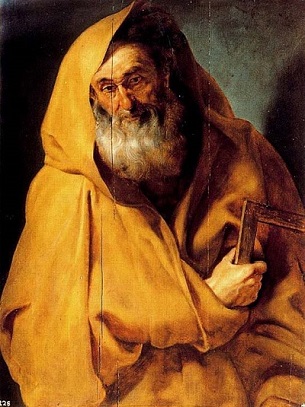 James 2:25
Likewise, was not Rahab the prostitute also justified by works when she welcomed the messengers and sent them out by another road?
James now turns from the patriarch to the prostitute in a second illustration of his point, in case anyone think Abraham was a shoe-in with God. Just as Abraham had been "justified by works" so also ("likewise…also" homoiōs de kai) was Rahab.
Rahab's story is found in Joshua 2 and Joshua 6:15-25. It is of interest that these passages never mention her faith, although it is clear that she has regard for the God of the Hebrews as the one who is "God in the heavens above and on the earth beneath" (Joshua 2:11). Nevertheless her "works" are indicative of her belief that "the Lord has given you the land" (2:9). Therefore Rahab "welcomed the messengers and sent them out by another road" (hypodexamenē tous aggelous kai hetera hodō ekbalousa). Rahab's works consist in the welcome, protection and lodging she gave to these vulnerable messengers in their time of need, and her sending them out in safety. One might complain that Rahab lied in order to accomplish her ends, and that she was acting in self-interest; that is, there was nothing praise-worthy in her works at all. How could such works as these become the basis of justification, and that before a holy God?
If anything, these concerns make James' argument all the stronger. Not just righteous Abraham, but Rahab the prostitute (Rhaab hē pornē) was "justified by works" (ex ergon edikaiōthē). Rahab's concerns were not entirely selfish however; in her interactions with the spies she mentions herself only indirectly. Rather her concern is for her parents and siblings and their families. Nevertheless, for all her demerits, Rahab and her family are saved from the destruction of Jericho and are incorporated into Israel and its history (Joshua 6:25).
Why does James choose Rahab has his example of justification by works? Two reasons may be given. First, the figure of Rahab fascinated the Jews to the extent that she was lauded as the archetypal proselyte (Davids, 133-134). So, too, the Christian tradition found in her an example of the righteous gentile who became a member of the people of God. Matthew includes a "Rahab" in Jesus' genealogy which is commonly assumed to be this same Rahab despite the chronological difficulties of the passage (Matthew 1:5). The author of Hebrews also includes her in the list of Israel's heroes and heroines of faith, clearly identifying her faith with her reception of the spies (11:31). The first-century Roman bishop Clement included Rahab along with Abraham as an example of "faith and hospitality:"
On account of his faith and hospitality, a son was given him [Abraham] in his old age … On account of her faith and hospitiality, Rahab the harlot was saved (The First Epistle of St Clement, ch. 10, 12).
This link of faith and hospitality—generous kindness to the poor and other vulnerable people—provides a second reason James' use of Rahab as his example. Her reception and care for the outsider and stranger, because they were members of the people of God, also serves James' whole argument in this chapter. Her example is precisely the opposite of the figure in verse 16 who sends the poorly clothed and hungry person away without any practical care. Thus, her works of hospitality are paradigmatic of the kind of works James expects to see amongst those in his congregation.