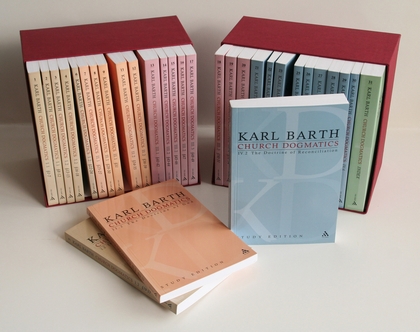 Selection: The Church Dogmatics II/1:21-25,  §25.1 "Man before God."
Barth began his discussion with the insistence that God is known in the church because God has given himself to be known in his revelation, supremely in Jesus Christ, the Word become flesh. The knowledge of God is necessarily the knowledge of faith because in his revelation God reveals himself indirectly, utilising creaturely media as the vehicle of his revelation. Yet in and through these creaturely media God speaks, acts, and reveals himself, giving true knowledge of the true God. If we would know God we can do so only in faith, and only in those places where God has given himself to be known. Otherwise, we do not have the knowledge of God but of false gods and no-gods, gods of human invention.
Barth continues his discussion by developing a third point: the knowledge of God is always a gift of divine grace in which the human knower can never have precedence: "Only because God posits Himself as the object is man posited as the knower of God" (22). Grace means that God initiates humanity's knowledge of himself and indicates also the freedom of God with respect to humanity. God and the knowledge of God are never at human disposal but we may and must pray for its fulfilment, that God may give Himself to be known.
Biblical knowledge of God is always based on encounters of man with God; encounters in which God exercises in one way or another His lordship over man, and in which He is acknowledged as sovereign Lord and therefore known as God. They are encounters which are always initiated by God, and which for man always have in them something unforeseen, surprising and new (23).
Nor is this a once-off encounter with a person for in Barth's description the Christian life involves constant renewal in the knowledge of God, revelation, and faith.
For example, it is not the case that Abraham, Moses and David, once chosen, called, enlightened and commissioned, knew once for all how they stood with God. But what was once for all decided concerning them by God had to be worked out and fulfilled in them in a long history of renewals—for as long, indeed, as they lived . . .
Without new grace and without the effectiveness of God in His works Israel would have departed from God at every turn and then have been inwardly destroyed. Everything depends on the fact that God does not cease to bear witness to Himself as the one eternal God in new manifestations of His presence, in new revelation of His former ways, leading His people continually from old to new faith (23-24).
Barth acknowledges that the portrayal of the New Testament apostles is quite different to that of the Old Testament characters he discusses. It certainly appears that they are in fact possessors of the knowledge of God in a way that does not seem to need constant renewal. But Barth distinguishes between their need as men and the apostolic office in which they stand. As men they do need such renewal though
In their existence as apostles the secondary objectivity of the human appearing of Jesus Christ Himself is repeated. And hidden within this is the primary objectivity of God Himself, call to faith, awakening faith, establishing and renewing faith, and with faith the knowledge of God—not by these men's own strength but by the power of the Holy Spirit communicated to them, in the freedom of grace (24-25).
In this remarkable statement we see that the apostles are given a share in Jesus' revelatory ministry, entirely by the Spirit, so that his objectivity is repeated in them, and in and through them, the primary objectivity of God. That is, in and through their ministry, God speaks, calls, addresses, and converts. This, too, is the hope of the church in its ministry. And for this the church must pray, as the apostles did, and as Jesus himself did (25).