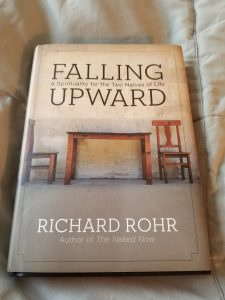 Richard Rohr, Falling Upward:
A Spirituality for the Two Halves of Life
(San Francisco: Jossey Bass, 2011), xxxvii + 199.
ISBN: 978-0-470-90775-7
Most of us tend to think of the second half of life as largely about getting old, dealing with health issues, and letting go of our physical life, but the whole thesis of this book is exactly the opposite. What looks like falling can largely be experienced as falling upward and onward, into a broader and deeper world, where the soul has found its fullness, is finally connected to the whole, and lives inside the Big Picture (153).
This citation gives, I think, a brief definition of what Rohr means by the title of his book. Life may be considered in two 'halves,' though this is a conceptual rather than temporal division. Some people, perhaps even most people, never get to the 'second half.' The entry to the second half of life is conveyed by the sense of falling. One falls, perhaps on hard times, or perhaps 'from grace,' or perhaps from a high estate or a good reputation. Usually the fall is unsought, unheralded, and unwanted but occurs anyway. But such a fall can become the entry into a new broader and deeper world, where one's soul is rediscovered, and one's ethos, direction, and desire are fundamentally re-ordered. To fall upward is to discover our True Self, our inner connection to all things and all people, and to live, as Rohr says, inside the Big Picture of God's love. The great purpose of life is to 'grow' our unique God-given self and return or offer it in love and service to God and the world. It is to be the me I was created to be.
The first half of life is concerned with what Rohr calls 'ego needs': identity, security, boundaries, order, safety, relationships, affirmation, and some experience of 'success.' In his view we all need our 'narcissistic fix' and without it, we will continue in and through life carrying a woundedness that often if not usually leaves us seeking to fulfil these needs in some other way. Somewhat paradoxically, these needs are fulfilled best when one is raised in a more traditional or conservative environment with an emphasis on law and tradition, loyalty, respect, and responsibility. Such an environment disciplines the ego so that it does not become an all-consuming drive. Becoming mature requires learning to live within the creative tensions of law and freedom, and so one must 'learn and obey the rules very well, so you will know how to break them properly' (citing the Dalai Lama, xxviii). The purpose of the first half of life is to 'write the script' or 'build the container' that we will, in the second half of life, enact or fill.
Yet despite the obvious strengths of these characteristics, there is more to life than identity, security, boundaries, order, affirmation, success, and so on. Somehow we carry an innate memory of 'home,' a deep-seated longing that can be assuaged only as our true self rests in union with God. Such a longing might call us to leave the security of our first-phase-of-life home in search of this true home. And so we begin a journey beyond the journey of the first phase of life. Or perhaps tragedy or suffering befalls us, a crisis by which our first-phase-of-life is up-ended and we are thrust out of our life, as it were, and into a further journey. Typically, suggests Rohr, we are led into the second half of life by an experience of loss, failure or brokenness we did not want, foresee, or choose, and which we cannot handle with the resources we presently have.
Nor does one arrive suddenly at the second half of life but grows into it, a process that continues through the rest of one's life. Whereas the first half of life is characterised by ego-goals, the second half is concerned with 'soul goals.' In the second half of life one has ceased from self-defining, from the endless fighting and doing to make one's way prevail. This person rests in God and simply is—being. They have become self-critical, though not self-loathing. They engage in 'shadow-boxing,' confronting the shadow-side that previously they kept well-hidden from others. They acknowledge and accept the truth about themselves, leaving go of pretence or subterfuge. They are able to live this way because they have found a friend or a Friend by whom they are 'mirrored.' They find that they are known deeply and fully yet loved and accepted anyway. And so a deep integrity ensues in which what one is, now is what is done. One enters what Rohr refers to as a 'second simplicity,' an innocence, a willingness to accept mystery, doubt, etc., and relinquishes the need for certainty or control because they trust in the overarching 'coherence, purpose, benevolence, and direction' of the universe. That is, they have a sense of underlying meaning, a Big Truth that satisfies the soul, even in the midst of continuing trouble, heartache or suffering. The gift they have now to offer is themselves.
*****
In this post I have provided a synopsis of Rohr's book.
In a later post I will offer my reflections on what I have read.