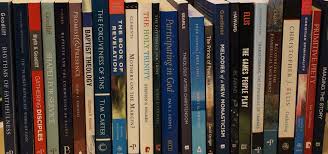 John Olley, former Principal here at Vose Seminary, has alerted me to the launch of a new Baptist journal: the Journal of Baptist Theology in Context. The 'in context' part of the title locates the focus of the journal in the interface between theology and everyday life, and pastoral ministry in that location and context. According to the editors,
This new Journal of Baptist Theology in Context will be for Baptists engaged in theological disciplines — doctrine, ethics, bible, history, practice — to offer their work to the wider Baptist constituency and to a general audience of those who work or study in the world of theology. Most of the articles will be written by those who are pastor-theologians and many of the articles will arise out of their context and so the title of the Journal points to this.
I very much appreciate the focus on the pastor-theologian, and the idea of substantial theological reflection in the context of ministry and for ministry. The journal arises in the context of British Baptists, but perhaps they will be open to publishing the reflections of Australian pastor-theologians, especially where these reflections have a broader application.
A commitment on the part of the editorial team to assist emerging writers to get their articles into publishable form is a real plus, especially for those new to the publishing 'game.' Perhaps you have an article you might like to submit?
The first issue of the journal is available now.