Mark Galli, Karl Barth: An Introductory Biography for Evangelicals 
(Grand Rapids: Eerdmans, 2017). Pp. xvi + 176. 
ISBN: 978-0-8028-6939-5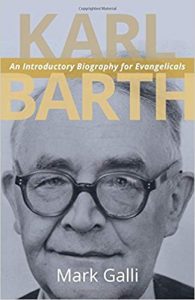 Mark Galli entitles his recent book on Karl Barth an 'introductory biography for evangelicals.' As a biography it is a faithful though simplified rendering of the broader and deeper story found in Eberhard Busch's Karl Barth: His Life from Letters and Autobiographical Texts (1976), upon which it draws heavily. With respect to his intended audience, Galli is writing specifically for evangelical Christians, not as a Barth specialist, but as an appreciative student and fellow-traveller.
Galli, editor-in-chief at Christianity Today, has written his book to reintroduce Karl Barth to evangelicals for two reasons. First, initial evangelical introductions to Barth's theology 'got him wrong' (6) with the result that a deep distrust developed among (especially North American) evangelicals so that even today his work is often ignored or dismissed by them (2). Nonetheless, the reception of Barth among evangelical theologians is now changing and it is only a matter of time, Galli suggests, before Barthian theology, 'however chastened and revised, will make its way down into the pulpit and pews of evangelical churches' (9). Second, and as a corollary to this, Galli believes that Barth's insights have much to offer contemporary evangelicalism as they consider afresh what it means to proclaim the gospel and to 'bear the cost of discipleship in these trying times' (12).
After the introduction and first chapter provide the rationale for the book, Galli devotes nine chapters to a brief recounting of Barth's remarkable life from his youth to his retirement years, highlighting his 'conversion' from nineteenth-century Liberal theology, his Romans commentaries, his participation in the church's struggle against Nazism, his political activity in a post-war divided Europe, and his ongoing work on the Church Dogmatics. He considers Barth's attitude toward Russian communism ('in retrospect Barth does seem naive on this issue' (103)), and his relationship with Charlotte von Kirschbaum ('it was clearly a case of emotional adultery' (68)).[1] These chapters are supplemented by a further chapter on Barth as 'preacher and pastor' which also considers him as a family man, a person of prayer, and the struggles of his old age ('he suffered from what we would today call depression' (133)). This is a useful and very accessible biography for those new to Barth.
After the initial chapters of biography Galli has two chapters devoted to Church Dogmatics though in reality they address not the substance or structure of the work itself, but two theological issues of immediate concern to evangelicals: the question of Barth's concept of the Word of God, especially as it relates to Scripture, and the question of universal reconciliation. In both cases Galli endeavours to provide a 'larger understanding' of Barth's thought with regard to the issue, and with respect to Scripture concludes that 'given this larger understanding, I don't know that traditional evangelical theology has much to argue with' (112). 'Barth reminds us that Scripture is not something we preserve and manipulate, let alone protect, but the means by which the Word encounters us, preserves us, and, if you will, "manipulates" us—that is, shapes us into the beings we were created to be' (115-116). Galli remains unsure as to whether Barth's theology leads inexorably to universal reconciliation, and suggests that 'insofar as Barth's doctrines of election and justification move in the direction of universalism, of course, evangelicals rightly reject his views' (121). Nevertheless he applauds Barth's 'fresh approach' to long-standing theological conundrums, and 'speaking personally, Barth has helped me talk about the gospel as unquestionable good news…[he] helps me as a teacher and preacher to proclaim good news that is really good news…with no ifs, ands, or buts. No quid pro quo. No qualifications' (125-126).
In his final chapter '"Liberal" Evangelicalism,' Galli returns to his rationale for writing the book only this time to argue that 'today, it is sometimes difficult to tell the difference between a liberal and an evangelical' (141). In a rhetorical flourish he even suggests that 'Schleiermacher has been born again in evangelicalism' (144). Galli is clear that contemporary evangelicalism is not the equivalent of nineteenth-century liberalism, but is concerned at the extent it has assimilated much of its ethos, especially its emphasis on religious experience and Ritschlian moralism. For Galli, Karl Barth's thorough-going battle against liberalism together with his clarion call to hear afresh the Word of God in Jesus Christ, will serve as a salutary summons to evangelicals. At stake, suggests Galli, is the very identity and mission of the church (145). The book concludes with an annotated bibliography useful for those new to Barth, and an index.
Galli notes that Barth 'wrote his theology…as an attempt to think about Jesus Christ in the context of the challenges and problems of the day. He wanted to model a way of doing theology—grounded in the Bible—more than to champion a particular theology' (137). If Galli succeeds in his attempt to reintroduce Barth to a new generation of evangelical Christians, students and pastors he will have rendered the movement a great service. While it is quite certain that evangelicals will continue to dispute with Barth over a range of issues, substantial engagement with his theology will assist them as they in their own way also think about Jesus Christ amidst the challenges and problems of the day. One hopes that this little book gains a wide readership amongst its intended audience.
[1] It is worth noting that Galli only became aware of the extent of the relationship and Barth's justification of it, shortly after the publication of his book. See his comment and reflection at: https://www.christianitytoday.com/ct/2017/october-web-only/what-to-make-of-karl-barths-steadfast-adultery.html.