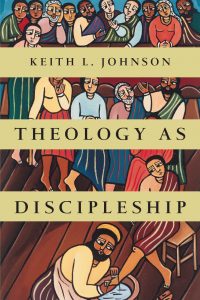 In chapters four and five Johnson turns his attention to scripture, providing a functional account of biblical authority. Because God elects his witnesses and identifies with their words—as Christ does with his own witnesses in the New Testament—and because God continues to use scripture as a medium of revelation, it is authoritative. Through these words the ancient witness and the contemporary hearers are linked in the one story and activity of the gracious God.
God's movement of grace in the past, and the biblical authors' obedient response to it, reverberates here and now as God uses the authors' past actions to produce our faith and obedience in the present. In this way, Scripture itself ties God's various saving acts together to form a single story, a unified history of God's grace and our response to it (93).
Despite this beginning, Johnson's description of biblical authority quickly passes over to an ontological and christological account. Scripture is inspired by God—breathed out by God as God's own very speech, and as such is God's Word in human words. Even more specifically, Jesus Christ is this inspiring God, who thus stands at the centre of scripture and is therefore, the criterion of all biblical interpretation. Theology, therefore, is learning to think in accord with "the mind of Christ," illuminated by the Spirit and guided by the scripture.
Scripture's purpose is not to help us fit God into our lives but to see how our lives fit into what God is doing in history through Christ and the Spirit. Rather than trying to insert Scripture into our reality by figuring out how we might apply it to our lives, our task is to reinterpret our lives and the whole of reality in the light of Scripture (106).
An implication of this view is that interpretation of scripture is not a free-floating, ad hoc, or reader-centred enterprise. Christians and theologians alike are to learn to speak of God appropriately by being inducted into communities and practices of interpretation, and participating with the community of faith in the present activity of God. Thus Johnson identifies three key interpretive principles. First is what he calls the Augustinian principle: all true biblical interpretation will lead to deeper love of God and neighbour. That is, interpretation is measured by outcome rather than by content alone. Biblical interpretation is itself oriented toward discipleship. Second is the ecclesial principle: we read and listen with others, including the tradition of the church. Believers continue to give their attention to (a) the message of Christ, (b) that of the apostles, and (c) the present work of the Spirit. In fact, Johnson suggests that interpreters start with the present work of the living Lord and Spirit as an exercise in hearing, following and participating now in the life and work of God. This, he suggests, is theology as discipleship. But both poles of this interpretive scheme are necessary. Unless we give our attention to the message we are in danger of drifting. Yet the present work of the Spirit also opens the possibility of new and surprising interpretations that we might never otherwise have noticed. This leads finally, to the third christological principle which insists on interpreting all scripture in the light of Jesus Christ as the criterion of interpretation.
Scripture, then, is central to the work and practice of theology. It is the chief creaturely means through which God speaks (110).
Our calling is to help the church think and speak about God correctly so the church can partner with Christ in God's saving plan for history, and we interpret the biblical text in light of this calling. Our primary goal is not to extract isolated doctrinal truths from the text and then use them as the building blocks of a theological system. Our goal is to help the church interpret Scripture faithfully so that the church can follow Christ as the Spirit leads. This means we interpret each passage in light of how Christ and the Spirit are prompting us to live in relation to God and neighbor right now … We engage in this task knowing the text will be interpreted properly only in light of the living Christ. …Our proper response is to read it with humility, openness and the expectation that God might surprise us (129, original emphasis).