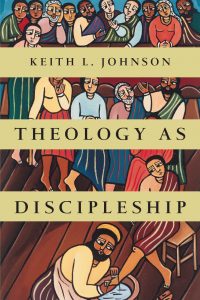 In chapters two and three Johnson develops his understanding of the nature of Christian life as a participation in and partnership with Christ. The practice of theology takes place within the context of, and as an aspect of, one's discipleship. Johnson narrates the biblical story of God's saving work in history culminating in Jesus Christ as the true reality that frames our existence. As such, theology begins "from above," from the narrative depiction of Jesus Christ as the revelation of God. All reality and history can be truly understood only with reference to Jesus Christ—and never the reverse. Theology cannot start from below as though to fit the idea of God into a preconceived understanding of reality. God's eternal will and purpose was to create all things in and for Christ, and to reconcile them by him. In the Holy Spirit believers are united to Christ and so given a share of—a participation in—his eternal life and knowledge of the Father. This knowledge which although partial is true, is the ground of theology. Johnson adopts a clear image to indicate the true though partial nature of our knowledge of God:
Participating in Christ is not the same thing as being Christ. He knows God by nature because he is God by nature; we know God as finite and temporal creatures who have been given a share in Christ's mind by grace. In this sense, we are much like a passenger who gets picked up by a train halfway through the train's journey. On the one hand, the passenger truly participates in the train's journey and has accurate knowledge of both the train and its movement toward its destination. On the other hand, the passenger's knowledge is "only in part" because she has participated in only part of the journey: the train and its journey long preceded her participation in it, and she has not yet arrived at the destination and has no knowledge of it (58, original emphasis).
Our union with Christ is for the purpose of partnership with Christ in his work. The pattern of this partnership is God's own being and work; God intends that we live in correspondence with him. Thus God gives commands that, as we obey them, help us to live in likeness to him. And God acts, empowering our own responsive action. Sin is the refusal to live in correspondence to God, choosing to become "like God" in our own way.
In union with Christ believers are made hidden participants in the eternal life of God, and by the Spirit Christ begins to live his life in and through us. Jesus has joined his life to ours, and has incorporated his people into his life, so that his history has become our history. His faithful obedience liberates us to be also faithful and obedient in him, corresponding in our own life to his life. The work of theology is one particular aspect of this overarching partnership. This work involves helping the church use human words to speak appropriately of God. This requires bringing human language about God into conformity with Christ, who is in himself the revelation of God and as such, the criterion of all speech about God. "Our thinking and speaking about God will be true if our words correspond to who Christ is, what he has done and what he continues to do within created history. This means that our primary task as theologians is to bring the meaning of the words we use for God into conformity to Christ" (81).