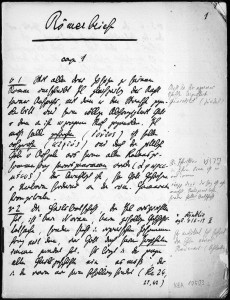 Last week I prepared my proposal for the Karl Barth Study Group at this year's ANZATS conference in Adelaide:
Adam as Anti-Type?
Reading Romans 5:12-21 with Barth
In Romans 5:14 Paul speaks of Adam ὅς ἐστιν τύπος τοῦ μέλλοντος—"who is a type of the coming one." In the first edition of his commentary on Romans, Barth translates τύπος with Gegenbild—"antitype." This curious translation raises a question concerning the validity of Barth's interpretation of Paul's letter, at least in this passage. Nevertheless, John Webster has claimed that "whatever abiding interest and worth [Barth's commentary on Romans] may have stands or falls by its success in fulfilling" Barth's stated intention to interpret Scripture (see Webster in Greenman & Larson (eds), Reading Romans Through the Centuries, 205-206).
This paper tests Webster's claim by examining Barth's exposition of Romans 5:12-21 in the first edition of his commentary, detailing the interpretive moves Barth makes and assessing their validity in light of his theory of interpretation, and as an exposition of Paul's text. In particular, Barth's treatment of the Adam-Christ parallel is explored, as an example of his theological interpretation. The focus of this paper is on the first edition of Der Römerbrief, though with an eye to Barth's later treatments of the same passage in the second edition of the commentary (1922), A Shorter Commentary on Romans (1940-41), and Christ and Adam (1952).