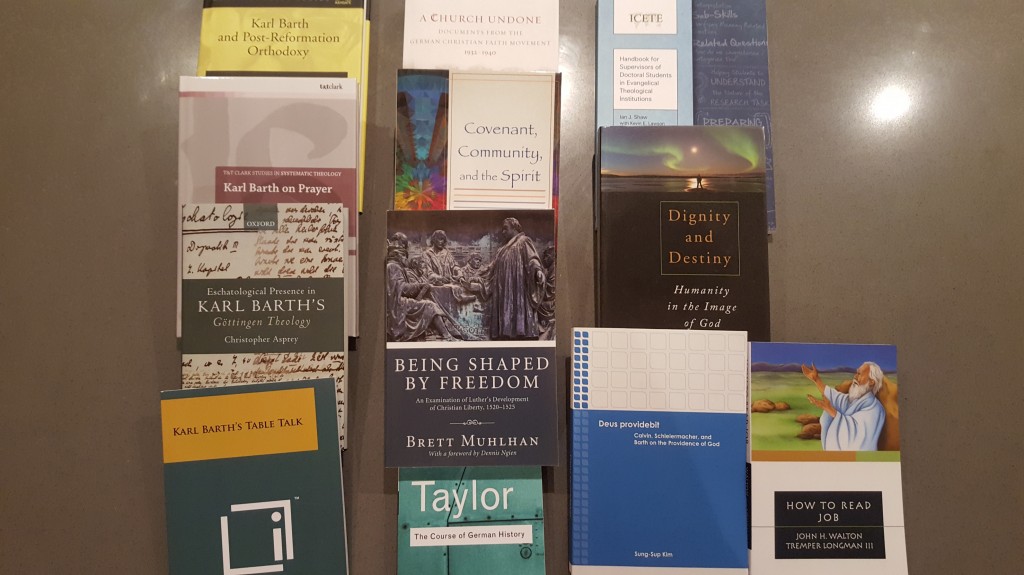 The last few weeks have been very full, with the result that my blogging has fallen in a hole. I hope to get back on the job in the coming days! In the meanwhile, here is a picture of some new books received in the last month or so… I think I have done a year's worth of purchasing since June…
Like the collection I picked up at the Conferences I attended, this is a somewhat eclectic collection, with a focus on Barth and books related to my work. I am particularly glad to get Being Shaped by Freedom: I was privileged to be a final year co-supervisor for Brett Muhlhan as he finished his work on Luther's The Freedom of the Christian. This is an excellent study on Luther's tractate and deservedly published. Renowned Luther scholar Robert Kolb commends the work:
With clarity, precision, and insightful sensitivity, Muhlhan . . . examines how Luther's understanding of justification and freedom produces the faithful life of the believer. This refreshing analysis contributes significantly to our understanding of the holistic view of Christian righteousness fashioned by Luther's distinctions of law and gospel and of two kinds of human righteousness. This book shows how Luther's insights actually functioned in his proclamation aimed at shaping Christian consciousness and performance of God's will.