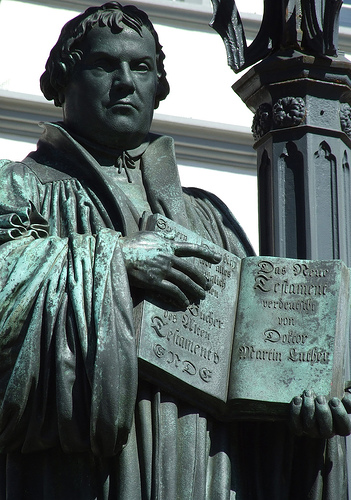 Once more I find remarkable, the depth of theological reflection and pastoral wisdom Luther can pack into a short sermon. Multiple themes bristle in this short piece. Luther appeals seamlessly to penal and Christus Victor metaphors of the atonement. We see the very prominent focus on the conscience and so also on the individual before God. Of course, justification and faith are present in his discussion, as is his prominent focus on the pro me, pro nobis—for me, for us: "Of what help is it to you that God is God, if he is not God to you?" (166).
This is obviously a message for Christians rather than non-believers, though non-believers also might benefit from it. We learn that we are sinners having come to Christ. It is from the cross that we learn that we are sinners, and from the cross and resurrection that we learn we are forgiven and loved. And learning that we are thus loved and forgiven is the basis—the only basis—for Christian life and sanctification.
I find of particular interest and comfort, Luther's insistence that the first movement of this 'correct' meditation on the passion is not a religious work or something accomplished through our own (somewhat morbid) self-effort. There is no moral self-flagellation here:
Unless God inspires our heart, it is impossible for us of ourselves to meditate thoroughly on Christ's passion. … You must first seek God's grace and ask that it be accomplished by his grace and not by your own power. That is why the people we referred to above fail to view Christ's passion aright. They do not seek God's help for this, but look to their own ability to devise their own means of accomplishing this. They deal with the matter in a completely human but also unfruitful way (169).
This is good and necessary pastoral wisdom from Luther, which also went unheeded by some in the Puritan and Pietist traditions—and still today. Those who seek to uncover their own sinfulness, to convince themselves of their own moral filthiness, and dredge over sins and errors time and again, have "to be sure, the appearance of wisdom in self-made religion and self-abasement and severe treatment of the body, but [such activities] are of no value against fleshly self-indulgence" (Colossians 2:23—my comment, not Luther's). Luther obviously understands true meditation on Christ's passion to be a theological activity, interpreting his sufferings through the lenses of such Scripture passages as "Christ died for our sins" (1 Corinthians 15:3). We look only to Christ and not to ourselves. In him we see both our sin and its remedy, and in him the pattern and the source of strength for truly Christian life.
Although today we might shift some of the language and imagery, this is a fine example of preaching that is at once deeply theological and pastorally wise.