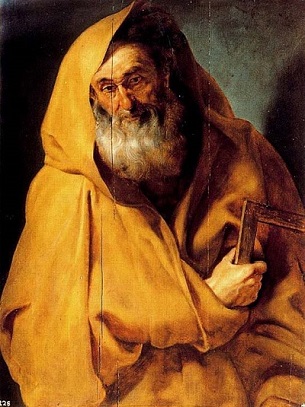 (I know it is late Monday, but I will keep the regular title of this post for continuity's sake!)
Read James 2:14-26
Before I tackle this passage verse-by-verse, I want to stand back a little to get an overview of some the issues connected with this most central and most controversial of sections in James' letter. The central message is unambiguous, being repeated three times: "faith without works is dead" (2:26; cf. vv. 17, 20). The issue is not so much understanding what James has said, as it is the apparent conflict between what James says here and what is said in other New Testament texts, especially Paul. A comparison of two key texts sets the issue in stark relief:
James 2:14, 21          
What use is it, brothers and sisters, if someone says he has faith but he has not works? Can that faith save him? … Was not Abraham our father justified by works when he offered up Isaac his son on the altar?
Romans 3:28
For we maintain that a person is justified by faith apart from works of the Law.
The centrality of the doctrine of justification by faith for Luther, and in Protestantism generally, caused Luther famously (or perhaps infamously) to relegate James to the least of the books in the New Testament:
Which are the true and noblest books of the New Testament? … In a word St. John's Gospel and his first epistle, St. Paul's epistles, especially Romans, Galatians, and Ephesians, and St. Peter's first epistle are the books that show you Christ and teach you all that is necessary and salvatory for you to know, even if you were never to see or hear any other book or doctrine. Therefore St. James' epistle is really an epistle of straw, compared to these others, for it has nothing of the nature of the gospel about it (Luther, "Preface to the New Testament" in Lull, T. F. (ed.), Martin Luther's Basic Theological Writings, 116-117).
Many Christians have for centuries followed Luther's lead, subordinating James to Paul and as a result not hearing James' distinctive message as clearly as they might. Some modern scholars have suggested that the New Testament documents represent different forms of Christianity; thus Paul's writings express the faith and experience of a law-free Gentile church, while James expresses the faith and experience of a law-affirming Jewish Christianity (see Moo, 45, who cites as an example, Dunn, Unity and Diversity in the New Testament, 251-252). The question we face is whether there is a fundamental disjunction between the message of James and that of Paul, with respect to this central issue.
The major part of the problem revolves around the language and imagery used by James, including the key terms faith, works and justified, as well as his use of Abraham as an example of one who is justified on account of his works. Paul uses these same terms in his letters when discussing justification, and also uses Abraham as an example of one who is justified on account of his faith without any works. A careful examination of the passage, however, shows that James and Paul are approaching this topic from different directions and use the same terminology in different senses.
Thus, when Paul speaks of faith, he has in mind personal, whole-of-life commitment and allegiance to Jesus Christ. James, too, can speak of faith in this sense (cf. James 1:3, 6-8; 2:1, 5; 5:15). But in this passage, James is speaking of "faith" in an entirely different sense: he is speaking of one who claims to have faith, probably understood in the sense of right-belief, but whose life shows no evidence of genuine whole-of-life allegiance to Jesus. In this case, their life contradicts their profession. James mocks this kind of "faith" which is limited to doctrinal correctness: "the demons also believe!" (v. 19). For James, this kind of mental assent which does not penetrate to the heart and find expression in the concrete action of life, is no faith at all.
When Paul speaks of "the works of the Law" he usually has in mind the ceremonial works including such things as circumcision, Sabbaths and holy days, food laws, etc., although it is also true that he repudiates all and any kind of work whether ceremonial or moral as the basis of one's justification by God (e.g. Ephesians 2:8-9). But, and this is important, Paul never diminished the abiding validity of the moral demand of the law. So in passages such as Galatians 5:6 ("For in Christ Jesus neither circumcision nor uncircumcision means anything, but faith working through love") or 1 Corinthians 7:19 ("Circumcision is nothing, and uncircumcision is nothing, but what matters is the keeping of the commandments of God") we find a message very similar to that which James presents in this passage. Significantly, James appears entirely unconcerned about the issue of circumcision, perhaps because he was writing to Jewish Christians. More importantly, however, and despite the portrayal of James in Acts 21:18-26 and Galatians 2:12 as one who continued as a law-abiding Jew even as a Christian, in his letter James never appeals to or affirms any aspect of the ceremonial law, even while he assumes the continuing validity of the law itself. Even in this passage, James' emphasis is on works of mercy toward the poor—continuing the theme of 2:1-13, the work of obedience to God in the case of Abraham, and faith itself as a work in the case of Rahab. The key for James is that genuine faith is active, issuing in obedience to God.
Finally, James and Paul are using the term "justified" (dikaioō) in different ways, something also illustrated in their different appeals to the example of Abraham. Paul speaks of justification as one's initial transfer into right relationship with God on the basis of Christ's atoning death, received through faith, just as Abraham also was justified by God on the basis of his faith prior to receiving the covenant sign of circumcision. James in this passage is speaking of one's ultimate justification at the final judgement where the authenticity of one's faith is demonstrated by the works and activity of one's life (so Moo, 46-47; Seifrid, "Righteousness" in Dictionary of the Later New Testament and Its Developments, 624). Thus, although Abraham was initially accepted into right relationship with God, his faith was tested and proven—even by God—over the course of his life, and so demonstrated as genuine.