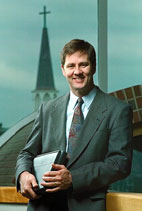 In this older blog post Bill Mounce tussles with those who – in 2009 – wanted to affirm either the ESV or the TNIV. Since then the TNIV has been replaced by the updated NIV. Nevertheless his post is still relevant on at least two fronts:
(a) he deals with some issues to do with Bible translations and translation theory;
(b) he raises important issues to do with the character of debate in Christian circles – including for those who may be faculty or students in a Seminary!
How do you eat an elephant? How do you read Karl Barth?This is a good post on where and how to start reading Karl Barth, by Darren Sumner.
Speaking of Barth, the 2015 Karl Barth Conference is on at Princeton Theological Seminary this week. The theme this year is "Karl Barth and the Gospels." Travis McMaken gives an overview of the programme on his blog. Carolyn Tan is privileged to be there, and I am looking forward to hearing her report when she returns to Perth.
From the media attention this week, I gathered that Pope Francis had written an encyclical on climate change, and thought, " Well, that seems to be a different papal focus from the kinds of issues that interested his predecessor." This report on the encyclical, however, indicates that the issue of climate change was only a minor aspect of a more broad ranging discussion about environment, poverty and development.
What's significant about Laudato Si is not that it adds anything new of substance to what scientists, economists, or prior popes have said about climate change. Rather, the encyclical is likely to be significant simply by raising the salience of the climate issue.