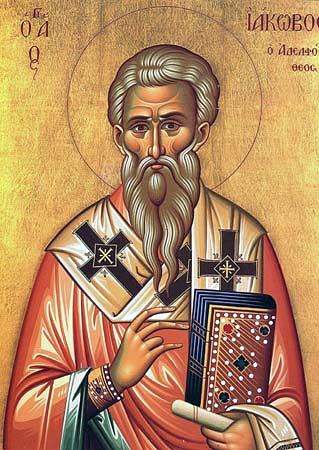 James 1:1
James, a bond-servant of God and of the Lord Jesus Christ, to the twelve tribes who are dispersed abroad: Greetings.
The first word of the letter is simply the author's name, following the custom of ancient letter writing practices. This James is apparently so well known that he can be recognised simply by mention of his name. There are really only two "Jameses" in the New Testament who are sufficiently prominent to qualify as this James: James the brother of John, one of the twelve, who was martyred by Herod (see Acts 12:2), and James the brother of Jesus, who became leader of the church in Jerusalem. Last week we suggested that the latter is best thought of as the writer.
But James does not set forth his privileged relationship to Jesus as the basis of his right to gain the attention and hearing of his audience, but refers to himself rather as a "bond-servant (doulos) of God and of the Lord Jesus Christ." To claim to be a servant of God is not uncommon within Judaism, but to claim also to be a servant of the Lord Jesus Christ is to immediately distinguish oneself from mainstream Judaism, indicated by assigning these particular titles—Lord and Christ—to this particular man. Christos (Christ), is simply the Greek rendering of the Hebrew term for Messiah, while kyrios (Lord) is the Greek term used in the Septuagint to translate the Tetragrammaton (YHWH)—the holy name of the Lord God. To refer to the man Jesus as Lord and Christ is to associate him with the Old Testament God, and as God's eschatological saviour, the Messiah. This, of course, constitutes a decisive claim within Judaism: the Messiah has come! God has acted to redeem his people. His eschatological salvation has appeared amongst the human community, precisely in this particular man, Jesus, whom we must also acknowledge as Lord.
James addresses his letter "to the twelve tribes who are dispersed abroad." This is unusual language because technically, the twelve tribes no longer exist, the northern kingdom of Israel having been taken into captivity by Assyria many centuries earlier (see 2 Kings 17). It is likely that James is using the phrase simply to identify ethnic Jews, and perhaps more particularly, Jewish believers in Jesus "who are dispersed abroad" (tais en tē diaspora). The noun diaspora referred to those Jews who lived outside of Palestine; the term was both ethnic and geographical (Trebilco, 287, 297-299). If we accept that the epistle was written by James the brother of Jesus sometime in the 40s, it could be that he is writing especially to those Jewish believers who had been part of the Jerusalem congregation, but then had been "scattered throughout" the regions of Judea and Samaria in the persecution that arose after the stoning of Stephen (Acts 8:2, 4). Indeed, Acts 11:19 tells of some of those "scattered" who went to the gentile regions of Phoenicia, Cyprus and Antioch. In each of these texts the verb used is diaspeirō, the cognate of the noun used in James 1:1 (and the only times the verbal form occurs in the New Testament). By means of his letter, James is extending pastoral care and oversight to these followers of Jesus in their scattered locations, who, as former members of the Jerusalem community, would have been aware of James' identity, leadership and authority.
Might James have had an evangelistic as well as a pastoral motive for writing this letter? Might he be writing to Jews more generally who are now being brought into contact with Christian Jews, and encouraging them to believe in Christ? This is unlikely, given the very few references to Jesus in the letter. James is writing to exhort Christian Jews to faithful endurance in the midst of their suffering and hardship, and to perhaps to counter reports he has heard concerning disunity in their midst.
"Greetings!" James' salutation is to the point. This form of salutation is found elsewhere in the New Testament only in Acts 15:23—in the letter from the council of Jerusalem. But it is a common form of greeting in Greek letters, which also indicates James' familiarity with the Greek style (Moo, 58). The word itself—charein—literally means "to rejoice" and thus also forms a fitting segue to the next verse.
Application
Though a simple salutation, this verse lends itself to at least a couple of applications for Christian life and ministry. First, James could have introduced himself as the brother of Jesus, claiming elevated rank, privilege and authority. But James does not "pull rank" on his readers choosing rather to describe himself simply as a servant. This is consonant with Jesus' teaching that those who would be great in the kingdom of God must take the lower place, becoming servants and following his own example: "for even the Son of Man did not come to be served, but to serve, and to give His life a ransom for many" (see Mark 10:42-45; cf. John 13:1-17). Further, it is fitting: if Jesus is the Lord-Christ, the Messiah-King (McKnight), then to be his servant is in itself a high and distinguished calling.
Second, James is concerned not simply for the believers surrounding him, those he can see, but for those who have been scattered, those under pressure, those who have left, and those far away. Out of sight is not out of mind for James the Just. Undoubtedly the prayerful man prays for them; here he writes to make contact, to encourage and exhort. Pastoral authority is grounded in pastoral care, pastoral leadership in humble service.