Read Psalm 3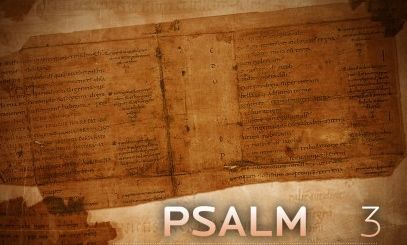 and 2 Samuel 15:13-37
I wrote a short exposition of this psalm and its historical setting for yesterday's post. There we noted that this is a devotional psalm, a morning prayer to entrust ourselves and our day to God in faith, trust and commitment. But there remains more to be said.
We noted the possibility that David sent the ark back to Jerusalem because he refused to presume on God's grace and call, or to co-opt God for his own cause. Hidden in this narrative is a lesson for leaders, for Christian leaders are continually tempted to presume on the legitimacy and righteousness of their cause. Humbled, David allowed God to establish his position and cause – on this occasion, at least.
Yet David also obviously believed in God's grace, and believed that God's presence was with him even without the ark, and even in spite of the sin which had brought such terrible consequences into his life and family. When all around suggested that God had abandoned him, David continued to trust.
The narrative in 2 Samuel indicates that one of the means by which the Lord sustained David was via the great grace of faithful companions – not everyone around him was an enemy, and these friends could not help but be a means of support and encouragement for David.
David also acted, taking pragmatic steps in addition to his prayer. In 2 Samuel 15:31 David prayed that the Lord would turn the counsel of Ahithophel into foolishness. In verse 34 he sent his servant Hushai as a spy to thwart the counsel of Ahithophel. David's act is not a sign of lack of trust in the God toward whom he had just prayed. Prayer often gives rise to corresponding action; divine wisdom often supplies a strategy. Salvation is of the Lord, but God often uses various means to accomplish his purpose or answer our prayers.
"The horse is prepared for the day of battle, but victory belongs to the Lord" (Proverbs 21:31). This proverb, echoing the words of the psalm, shows that faith is not simply passive or inactive; a person of faith prays and trusts, and on the basis of that prayer and trust also works, the works being the fruit and evidence of the faith. Without divine grace and help, without the divine presence and blessing, there can be no victory, no matter how well dressed the horse and rider are. Nevertheless, although victory is of the Lord, there are still preparations to be made.
So in the morning we awake and we pray, calling upon the Lord for his help, protection, guidance and blessing, committing our day and our very life into his care, in accordance with his purpose. And then we go to work, trusting in the One to whom we have prayed, who also is our shield and salvation, our glory, and the lifter of our head.